THE WAY SISTERS AND THE WOMEN'S AUXILIARY ARMY CORPS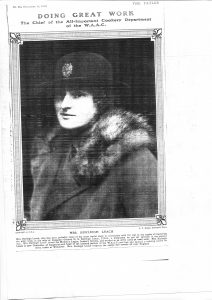 Florence Burleigh Leach nee Way started her war career as a cook in a new Military Cookery Section of the voluntary Women's Legion, the Commandant of which was Miss Lilian Barker who interviewed all potential recruits.  According to 'A  Short History of Queen Mary's Army Auxiliary Corps':
"… during a slack moment [in 1915] Miss Barker looked up to see what she later described as 'a vision of radiant beauty'.  A tall fashionably dressed lady stood in the doorway, the sun shining on her golden hair.  Her business was apparently to volunteer for a job.  Miss Barker was not impressed by the beautiful clothes, carefully manicured hands, nor by the candidate's experience which appeared to consist of keeping house for husband (then Deputy Director of Personnel Services at the War Office) and for an uncle when Governor of Gibraltar.
"She said that she regretted that cooks could only be recruited through the Labour Exchange and when her visitor turned away she thought she had seen the last of her.  To her amazement, within the hour the woman who she had written off as a social butterfly was back with her with her Ministry of Labour card asking to be taken on".
Florence was offered a post as Head Cook, E Division, Summertown Convalescent Camp, Eastbourne.  The camp had been hit by sickness, and the kitchen was understaffed.  When Miss Barker visited a few days later she found Mrs Leach scrubbing the kitchen floor.  Here she "first caught a glimpse of the grim determination that lay beneath the charm".  When in 1916 Miss Barker moved to Woolwich to take over command of the women munition workers she left Florence Leach in charge of the Legion's Cookery Section.  She enlisted the help of her sister Violet Long (who was already active with the Women's Legion in Chiswick) and her office transferred to Violet's House in Bedford Park.  Later they moved to an office in Duke of York's HQ in Kings Road.  Mrs Long became Controller of Personnel.
Established in March 1917, the Women's Auxiliary Army Corps was to be made up of volunteers of whom eventually 57,000 were employed. The response was swift: the first WAACs moved to France on 31 March 1917. By early 1918, some 6,000 WAACs were there. The organisation of the WAAC mirrored the military model: their officers were called Controllers and Administrators rather than Commissioned Officers, the WAAC equivalent of an NCO was a Forewoman, the private a Worker. The women were largely employed on unglamorous tasks behind the front lines: cooking and catering, storekeeping, clerical work, telephony and administration, printing and motor vehicle maintenance. A large detachment of WAACs worked for the American Expeditionary Force and was an independent body under their own Chief Controller.  The first Controller in Chief was Mrs Chalmers-Watson.  By the end of the war, 57,000 women had enlisted and 9,000 had served on the Western Front.
When the women in the WAAC were first sent to the battlefields in France, there were just 14 cooks;  Florence was Controller of the cooks, and Violet as her deputy, would go overseas to gather her reports.  Indefatigable in their work, Florence Burleigh Leach was appointed Controller in Chief of the QMAAC in succession to Mrs Chalmers-Watson in February 1918, and appointed her sister Violet Long as her Deputy Controller. In March 1918, Florence was appointed CBE in the Birthday Honours, with Violet's appointment to OBE occurring at the same time.  In 1919 Florence became one of the first Dame Commanders of the Order.
Florence and Henry Burleigh Leach divorced in May 1921 on grounds that Henry had suffered a marked change in personality since his return from the War.  In 1922, she re-married, to Edward Percy Simpson, a director of West Surrey Water Company and the engineering firm of Worthington-Simpson, of Newark on Trent.  Sadly, he died in 1925.  She had no children from either marriage but was always close to her nieces, particularly Violet, who accompanied her on her tour of South Africa in 1927 and a trip to Argentina in 1934.  Florence was a  witness at Violet's marriage in Kensington in 1938.
Dame Florence Simpson in the years before her death moved to South Africa, living with her step-daughters in their farm in Orange Free State.  She died in a clinic at Arlesheim in Switzerland on 5 September 1956, determined to give no trouble to her friends.  An obituary in The Times, indicated that "No one who has known her can forget her personal charm, her exceptional good looks and her graceful bearing; even in old age she carried herself beautifully straight'  She was 81.