Capt. Cyril Stafford HAZEON
Killed at Sea 5 July 1916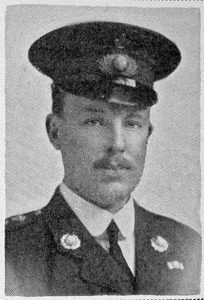 Cyril Hazeon was born on 25 June 1883 in Chiswick.  His father was Thomas Stafford Hazeon, (1854-1902), stone merchant, and mother Clara Pugh Hazeon, nee Thomas .   His parents lived at 4 Addison Road, Bedford Park.  Clara continued to live in Addison Road after her husband's death on 4 April 1902, continuing her late husband's stone business.  Cyril married Miriam Orchin, a 23 year old dairy farmer's daughter from Kent on 29 June 1912 in Kensington.
 Cyril was commissioned Sub-Lieutenant in the Royal  Marine Light Infantry on 1 January 1901 at the age of 17.  He attended the Royal Naval College, Greenwich, is enumerated there at the census in 1901 and underwent examinations and gained  promotion to Lieutenant, December 1902.  He passed the RM examinations for Captain, November 1905.  In 1908 he gained a medal and diploma from the Italian Government for service at the Messina Earthquake (see below).  He was promoted Captain on 1 January 1912.  He undertook further RM examinations for Major in December 1913.
From June 1903 until February 1905 he served in HMS Leviathan in the China Station, and after a 6 month Portsmouth training course he was posted to HMS Invincible, in the Mediterranean Station until November 1906.  After further training in Portsmouth he was posted to HMS Hibernia in the Atlantic Station, (Channel Fleet), and subsequently in HMS Dido, Home Fleet at the Nore.
From September 1908 he served in HMS Minerva in the Mediterranean : The ship was present at the relief operations in Sicily after the great earthquake and tsunami in the Strait of Messina, 28 December 1908. The crew qualified for the Medal of Merit for Participation in the Relief of the Earthquake in Calabria and Sicily, instituted by the King of Italy (see distinction above).
At the 1911 Census he was enumerated at Royal Marine barracks, Alverstone, Gosport, Hants
From September 1912 until December 1915 he served in HMS Natal, 2nd. Cruiser Squadron, Grand Fleet.  Natal was an unfortunate ship.  In 1912, it transported the body of the then US Ambassador to Britain back to New York, thereafter earning the name "Sea Hearse".  In late November 1915, while at anchor in Cromarty Firth, it blew up (thought to be due to faulty cordite in the after magazines) and sank within 5 minutes with severe loss of life.  It seems clear (from his death notice in "The Sphere" which included the photograph of him reproduced above) that Capt. Hazeon was on board at the time, and was one of the fewer than 400 survivors.  In February 1916 he was transferred to HMS Hampshire, Grand Fleet.  It participated in the Battle of Jutland on 31 May 1916 with the 2nd Cruiser Squadron. During the battle she was never actually engaged and only fired four salvos at the German II Scouting Group that fell well short of their targets in addition to shooting at illusory submarine periscopes throughout the day.  The Hampshire was unfortunately mined and lost by enemy action on 5 June 1916, near the Orkneys, the ship having just left Scapa Flow carrying the Minister for War, Lord Kitchener for a mission to Russia.
After Cyril's death, his wife Miriam continued to live with her mother-in-law at 4 Addison Road until her re-marriage to a local man, Mr Allen Clark in 1923.  Mrs Clara Hazeon continued to live in Addison Road until her death in 1939.  She had only one child, Cyril, and in her Will she bequeathed her estate to her daughter-in-law, Miriam Clark.