Private Alfred KINGSTON
Killed in Action 25 October 1918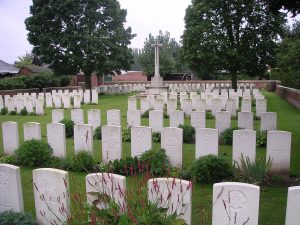 Alfred was born on 14 July 1899 and  Baptised in Chiswick on 11 October 1901.  He was the second son of Francis Samuel Kingston, who had recently moved with his wife, Mary Ann from Deptford, Kent, where they had lived all their lives, to live at 7 Hogarth Lane, Chiswick.  He was a Boilermaker.  Alfred had an elder sister, Florence, born 1896, and an elder brother, Francis Benjamin, both whom had been born in Deptford.  At the 1901 census there was a further brother, aged 4 months, George.  By 1911, the family, still at 7 Hogarth Lane had grown to 8, with the addition of Henry, born 1902, and Samuel Charles, born 1904.  All the boys were still at school, but aged 14, Florence was an apprentice dressmaker.  Francis Samuel was now described as an Iron Riveter.  Possibly he worked at Thornycrofts as a boilermaker until the company's move to Southampton in 1904, but he may have continued at Gwynne's Works on the same site, hence the change in occupation.
Alfred would have been aged 15 at the outbreak of the War.  His name on the Cadet Battalion's memorial plaque at St. Michael's suggests that he may well have volunteered early on, and had initial cadet training, often in the Church Hall, or in the Mission Room in Chiswick Back Common. At the age of 18 he will have been conscripted.  We know that he was first in the 107th Training Reserve that trained in Edinburgh as a Royal Fusiliers Reserve Battalion, Service No. 148315.
Finally Alfred was transferred to 26th (Service) Battalion, Royal Fusiliers (The Bankers Battalion) 41st Division 124th. Brigade as Private No. 82110.  This was probably only in 1918.  The battalion had in November 1917 moved to Italy to strengthen the Italian resistance and assumed control of a front line sector behind the River Piave.  It was in March 1918 that it had returned to the Western Front.  Alfred could have seen action in the Battles of Arras and the Lys, but more likely, he will have first seen service during the "Final Advance in Flanders"  campaign: the Battle of Courtrai and the advance towards the River Schelde.  (see accompanying maps)   Attacking in conjunction with 34th Division on 25th October, 123rd Infantry Brigade, 11th Queens (Royal West Surrey Regiment) and 23rd Middlesex Regiment the lead battalions, cleared Hoogmolen Mill and Hill 66 before advancing through Heestert, Hoske and Okkerdriesch to halt east of Raaptorf. On the left, 26th Royal Fusiliers of 41st. Division were held up by heavy machine-gun fire south-west of Ooteghem (Otgem).
It is during the latter attack that Alfred Kingston was killed.  He would initially have been hastily buried where he fell (Map Reference: Sheet 29.O.6.b.9.9).   On 26 August 1920 he was re-buried at Vichte Military Cemetery, Plot 4, D.1.  His parents would have received his British War and Victory medals.  Alfred was the first of their two sons to die in the Great War.  His elder brother Francis Benjamin died in hospital in November 1918 in Italy.