2nd. Lieut. Arthur Leslie ROW
Killed in Action 5 June 1918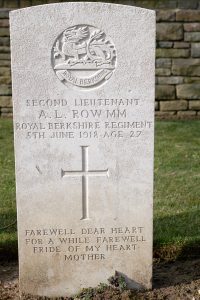 The eldest son of Arthur Bryant and Mary Florence Edith Row, he was born 9 May 1891 and was baptised on 31 May in the Parish Church, Richmond, Surrey.  His father described himself as a Tutor.  When aged 9, in the Census of 1901, he and his family were resident at Burlington House, 1 Kings Road, Richmond, a small school  of which his father was headmaster, with sixteen boarding pupils.  He had two younger siblings – Violet Mary, born 1893, and Norman Denys, born in 1900.  Next door, at Rothsay Cottage, lived his widowed paternal grandmother, Lydia Row, from Tiverton in Devon.
At the Census of 1911, Arthur's mother was a very recent widow – his father had died in January 1911 at the age of only 50.  After his death, the family remained only briefly at Burlington House as the school closed down.  Mary Florence Edith and Norman Denys, now a schoolboy aged 11  at school in Richmond, living at home.  Violet Mary at 17 had left home for employment in Barnet as a Governess, for a Colliery Agent with a 4 year old daughter.
Arthur Leslie at 19 had also left home and had joined the peacetime army.  He is listed in the 1911 Census as a Private in the Duke of Cornwall's Light Infantry (DCLI) which from 1908 had been a reserve regiment.  He was living in single soldiers' quarters at Tilbury Fort.  His Service Record indicates that he had served in the DCLI from 1909 until June 1912, rising to the rank of Corporal, when he then transferred to the Royal Engineers, first as a Sapper No.22927.  After War had been declared, he landed in France in November 1914 after a tour in Bermuda and joined the 15th (Field) Company and served at the Front until October 1915, during which time he was awarded the Military Medal (MM), (gazetted 9.11.16) .  He was then withdrawn from the Front for clerical duties at GHQ 3rd. Echelon.  This was also known as the Adjutant-General's Office at the Base, and was at Rouen throughout the war.  Its role was to maintain all personnel and other records including War Diaries.  By July 1916 Arthur was Acting Corporal in this headquarters capacity.  At that time, his widowed mother had moved with Denys and Violet to 3 B Richmond Parade Mansions, East Twickenham.
In June 1917, Arthur submitted an application for a Commission in an Infantry Regiment.  It seems very likely that he felt that the frontline duty such that which he had experienced earlier was better than the tedium of office life.  After officer training, he was duly appointed to a Commission as Second Lieutenant in 1st. Battalion, Royal Berkshire Regiment from 30 January 1918 (gazetted 9.03.18).
In the first half of 1918, 1/Royal Berkshire , part of the 99th Brigade of the 2nd Division was engaged during the German spring offensive in the Battle of St Quentin, in which the battalion held out with severe losses in a defensive battle, in the reserve line at  Etricourt  against overwhelming numbers on 23 March, and  at the Battle of Bapaume two days later – a baptism of fire for the new officer.  By June, the Offensive had run out of steam, and  the Division had established defensive positions in depth in the area west of Arras and Bapaume.
The War Diary for 1 June 1918 reads as follows: "Location: HERLIERE. Village shelled in the morning with high velocity 5.9's. Capt Astley and 2 Other Ranks killed, 8 Other Ranks wounded. Usual training carried out in the morning – Battalion moved billets in the afternoon to wood near LA BAZEQUE with majority of the men in shelters constructed in trenches, remainder under canvas".
And on 5 June 1918:  "LA BAZEQUE.  Commanding Officer and one officer per Company reconnoitred forward area prior to relieving Guards Division.  2nd Lieutenants AVERY HM, BERESFORD SC, ROW AL, MM, killed.  2nd.Lieutenant (Acting Captain) SPENCER, MC wounded and died of wounds later in CCS.  Lieut. Colonel BRETT DJ wounded."
Second Lieutenant Arthur Leslie Row was thus killed in action while on a forward reconnoitring sortie led by his Commanding Officer in which three other junior officers died.  He was buried at Warlincourt Halte British Cemetery, Saulty at Plot XI.C.12.  His mother caused his headstone to be inscribed:
"Farewell dear heart for a while farewell.  Pride of my heart.  Mother"
Apart from his Military Medal, his mother would have received his 1914 Star, British War Medal and Victory Medal.  She suffered a second blow: her youngest son Norman Denys, who, as a new young soldier had been killed in September 1918.  She witnessed the wedding at St John's Church Putney of her daughter, Violet Mary to Ronald Victor Vaughan Callin, a Corporal in a South African Signalling Battalion in July 1919.  Shortly afterwards, having settled all her affairs, she emigrated to Durban, South Africa.