Second Lieutenant ROWLAND HURST BOURNE
Died 24 October 1918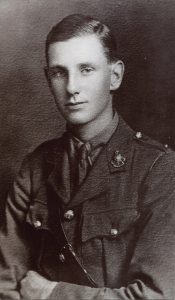 Rowland Hurst  Bourne was the eldest son of Rowland Manlove Bourne and his wife Gertrude Bourne who had moved from Birmingham to reside at 3 Priory Road Bedford Park in 1897.  Rowland (known in the family as Hurst) was  born on 6 April 1899 and baptized at St Michael and All Angels Church by Revd. Alfred Wilson on 7 May in the same year.  His father at that time was described as a merchant.  The couple had two further children:  Arthur Brittan Bourne, born 1902, and Nancy born 1909. In 1903 the family moved to 26 Bath Road.
Rowland Manlove Bourne became a local Justice of the Peace and died in Bedford Park in early 1936.  After his death, Gertrude moved away, and died at Abbotswood, St Mary's Road, Leatherhead, Surrey in 1948 aged 73.
Nothing much is known about Hurst prior to the First World War.  He was a pupil at Colet Court (1910-12) and then St. Paul's School, Hammersmith (1912-16) where he became a Sergeant in the OTC.  He was accepted as a Gentleman Cadet at Royal Military College, Sandhurst and was there throughout 1917 with a preference for a future career in the Army Service Corps.  His Uncle, also his godfather, was a Lieut. Colonel in this Service.  Hurst duly joined the Army Service Corps as a 2ndLieutenant, commissioned on 21 December 1917.
Among his personal effects returned to his parents after the war was a pocket-sized New Testament, inscribed "To Hurst Bourne, Christmas 1915 from Humphrey B Playford". (See gallery below).   Playford was about two years senior to Hurst, presumably a school friend or mentor.  He had also joined the ASC at the end of 1915.  He survived the war, and became an ordained priest from Ridley Hall, Cambridge in 1922.  He eventually became a schoolmaster, latterly at Stowe School.  Inside the Testament he had also inscribed a number of religious quotations including:
"God hath not given us the power of fear, but of power, and of love, and of a sound mind" – II Timothy, 1.7."
In January 1918 Rowland Hurst undertook a month's course at the ASC Training Establishment at Aldershot, where he excelled in Military Law, and in Practical Field Supply.  He was said to be an excellent horse rider and good at horse management.  He was recommended as suitable for Horse Transport or Supply Duties abroad, and described as "a very capable and intelligent young Officer".
The Great War saw a huge expansion of the Corps from 500 officers in 1915 to nearly 12,000 by 1918.  There was a slow but progressive shift away from horse to mechanical transport.  All ASC Officers were required to take mechanical transport training.  Apart from transport, the Corps was responsible for supply units, movement of stores by rail, base and field supply depots, bakeries, fuel tankers, coal supplies and drivers for ambulance and for heavy gun towing.  Junior Officers, were often recruited from university graduates and undergraduates, many from engineering departments, and/or attended Junior Officer courses at Aldershot, as did Rowland.  They were classed as Infantry so were then attached for nine months to an Infantry battalion. The CWG record states that Hurst had been attached to 7thBattalion, Royal Sussex Regiment for that part of his training, at the time of his death in action, on 24 October 1918, just 18 days before the Armistice.
It is not clear how or where 2/Lieut. Rowland Hurst Bourne died.  We know that in October 1918, the battalion was involved with the Final Advance to Artois, including the capture of Douai, (2 October – 11 November).  It is very likely that he would have been killed by machine gun, rifle fire or by shell fire.  His Medal Card, notoriously unreliable, is marked "Died", rather than the usual "Killed in Action" or "KiA", but all the correspondence in his Service Record confirms that he was Killed in Action. His service records contains letters about his initial grave and his re-interment in 1920.  It seems he was initially buried near he fell, near the village of Nivelle, east of Orchies.
Hurst is now interred at Valenciennes (St Roch) Communal Cemetery, (Reference III.B.3).  In adjacent graves lie l/Cpl. C A Park and L/Cpl. A Blake, both also from 7/Royal Sussex who died on the same date.  He was aged 19 and unmarried.  His father, as next of kin, received his British War and Victory medals.  His brother Arthur was too young to have enlisted, and later became an editor.  He died at Ringwood, Hampshire In 1977.  His sister Nancy never married, and died in Surrey in 2005.
In late 2014, Hurst's great great nephew, James Bourne aged 8 at the time, as part of his history course about the Great War, wrote a letter of thanks addressed to "the Unknown Soldier" at Paddington Station (see gallery below).  It was a great pleasure to have been able to inform him that his great great uncle's name is inscribed on the Bedford Park memorial.  In the event, James with his parents, and grandparents attended St Michael's on Remembrance Sunday 2015 to inspect the memorials and participate in the Act of Remembrance after the Service.  (See gallery below).