WALTON NOEL OLLIFF-LEE

Killed in Action 25 SEPTEMBER 1915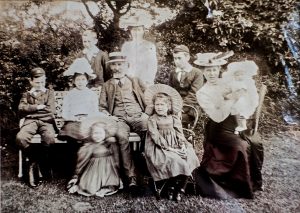 Originally from Barrow-in-Furness, the Lee family settled in Bedford Park in 1905, living at 23 Blenheim Road.  Walton Lee was a Land Agent.  In 1887 he married Charlotte Olliff, a farmer's daughter, from Little Missenden.  Walton Noel Oliff was their second son, born in Barrow-in-Furness on Christmas Day 1889.  He had three sisters, Marjorie, Mary Elizabeth and Edith, an elder brother, Olliff, born in 1888 and a younger brother Edward.  The photograph from about 1900 shows also an aunt and cousin.
Walton Noel went to Carlisle Grammar School and then studied from 1906 at City and Guilds Central Technical College, London where in 1909 he gained an 1st. class honours B.Sc. (London).  He acted for a time as assistant to Mr. RW Vawdrey at the college , as detailed in his application for Associateship of the Institute of Engineers.  He then joined the engineering staff of the Indented Bar and Concrete Engineering Company, assisting in the design of various reinforced concrete structures, including being Resident Engineer on the construction of a large warehouse in Manchester.  He was  admitted AIE in April 1914.
As did many similar professional men, Noel joined the Artists Rifles, which became the 28th (County of London) Battalion, London Regiment.  The Artists became in effect an Officers Training Unit.  He volunteered for active service on outbreak of war, as a Private, and saw service in the Expeditionary Force from October 1914 before being commissioned 2nd Lieutenant from 27 April 1915, and transferred to Ist Battalion South Staffordshire Regiment.
The Campaign map shows the Battalion's first line position in the Battle of Loos, near Cuinchy at the start of the attack. The whole 7th Division took part in the initial assault north of the Vermelles-Hulluch road, facing the Quarries and a series of strongpoints. Suffering badly from British cloud gas – which was not moved sufficiently by the gentle breeze – and badly cut up by German machine gun fire and artillery, the Division nonethless seized the Quarries and only failed to penetrate the third German line due to the relative weakness of the numbers of men that got through.  Noel was killed in action on that first day, 25 September 1915.  He was 26.  His body was never formally identified, so he is commemorated at the Loos memorial, on Panel 73.
On the same day, Lieutenant Cyril Francis Webb, who in peacetime had lived a few houses away at 27A Blenheim Road, of 2nd Battalion, Yorkshire Regiment was also killed.
After the War, Noel's sister Mary Elizabeth married Lieutenant John Edwin Hardy Duckworth, MC, Worcestershire Regiment.  He became a Dentist in Bedford Park.  Their daughter Jane Watson, Noel's niece, was formerly the Archivist at St Nicholas, Chiswick.