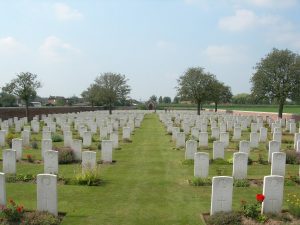 Captain Harvey Wilfred Warwick ROWE MC
Killed in Action 20 August 1917
Harvey Wilfred Warwick ROWE was the second son of Lydia Ada ROWE, born in Wandsworth in 1896.  Lydia had married Harvey's father Charles Courtney Rowe, a "journalist and author" on 13 July 1893.  It was Charles' second marriage, having been  divorced by his first wife in 1888, citing adultery and physical abuse.  Then, he was described as a jeweller.  He had been born in Plymouth in 1851.  At the Census in 1891 he was living as a lodger at 18 Oakhill Road, Wandsworth, the home of the Shepherd family – one of the daughters being the 26 year old Lydia Ada, who was studying at a governess training school.  She was the third generation of "Lydias" in her family.
By 1896, Charles and Lydia Ada had ultimately settled at 24 Southey Road, Wimbledon.  The couple had three boys. The eldest was Henry James Courtney, born in Wandsworth in 1894, and Harvey's younger sibling was Basil Affleck, born in 1898 in Wimbledon.
At the Census of 1901, the family circumstances had markedly changed.  After being widowed, Lydia Shepherd, Lydia Ada's mother, had moved with her own 80 years old mother, Lydia Affleck to 14 Rusthall Avenue, Acton Green.  Lydia Ada and her three sons had joined her.  However, Charles Courtney Rowe her husband was to be found at 24 Southey Road, Wimbledon which had been the family's address in earlier years of the marriage.  Charles now described himself as a commercial traveller.  We cannot tell what had caused the apparent separation, but by the November of 1901, Charles had died.  Thereafter, Lydia Ada and her children remained at Rusthall Avenue with her mother and grandmother.  Ten years on, in 1911, both Henry and Harvey Wilfred, 17 and 15 respectively, had started work as insurance clerks.  Basil was still at school.  Their great -grandmother had died. 
It is clear from their respective Medal Cards that the elder brothers Henry and Harvey would have entered the army just after the outbreak of war.  Indeed, it is probable that they volunteered on the same day, both joining the London Rifle Brigade, (1/5 Battalion, London Regiment) as Privates.  Their Regimental numbers were within 15 of each other.   They trained together, commencing active service at the Flanders Front in November 1914.  It seems that they found themselves in the same Company, and indeed, the same platoon.  By early 1915, the elder, Henry had been promoted to Lance-Corporal.  In the Winter and early Spring of 1914/15, the battalion's first front line posting had been in the area of Ploegstraat Wood, where it was involved in one main attack on the enemy resulting in occupation of the German front line trench, but short of the second-line objective.  It was relieved and rested at Steenwerck from 17 April 1915.
The battalion's War diary for April and May 1915 takes up a remarkable family story.  After the devastating German gas attack at Langemarcke, the start of the Second battle of Ypres on 22 April, The LRB found itself East of Ypres, called upon  to reinforce the hastily established second defensive line in the area of Wieltje.  By 9 May, the German offensive was poised for a further advance on Ypres and a fierce battle ensued until 13 May.    The Divisional commanding general had complimented the battalion thus:
"The behaviour of this Battalion was most gallant and praiseworthy….. it stuck to the trenches under heavy shell fire and was always dependable and ready for anything."
Henry and Harvey Rowes' platoon was positioned in one of three strongpoints to be defended "at all costs".  The eight men, commanded by Lance-Sergeant  Douglas Belcher (himself a Lance-Corporal a few weeks previously), did all that had been ordered.  In the words of the subsequent citation for Sgt. Belcher's Victoria Cross, the first for the Battalion:
"On the early morning of May 13, 1915 when in charge of a portion of an advanced breastwork, south of  the Wieltje-St. Julien Road during a very fierce and continuous bombardment by the enemy, which frequently blew in the breastwork, L/Sgt Douglas Walter Belcher with a mere handful of men elected to remain and endeavour to hold his position after the troops near him had been withdrawn.  By his great skill and great gallantry he maintained his position during the day, opening rapid fire on th enemy, who were only 150-200 yards distant, whenever he saw them collecting for an attack.  There is little doubt that the bold front shown by L/Sgt Belcher prevented the enemy breaking through on the Wieltje Road, and averted an attack on the flank of one of our Divisions."
It was Lance-Corporal Henry Rowe, as second-in-command who was awarded the Military Medal for the same exploits.  Three compatriots were wounded and one killed.  Three others, including Rifleman Harvey Rowe, survived unscathed.  Clearly, Harvey showed equivalent gallantry.  
After this action, the whole Battalion had been reduced to less than 200 men.  It  was then combined into a composite unit and not reconstituted until January 1916.  Both Henry and Harvey were sent for officer training.
The London Gazette confirms that Harvey was posted from the reserve to 10th Battalion, Cheshire Regiment, in 7th Infantry Brigade,  25th Division as a Second Lieutenant on 7 July 1916.   In the Somme, near Bouzincourt, at 12:35 p.m. on 9 October the 10th Battalion attacked Stuff Redoubt, with D and B companies forward, advancing behind an "intense" barrage, with C Company in support and A Company in reserve. By 12:42 p.m. it had captured the north face of the redoubt and pushed advanced posts forward to the north-east and the old second position trenches but failed to reach the final objective on the high ground to the north. The battalion took 127 prisoners and counted 50–60 German dead. Two counter-attacks in the evening were defeated by artillery and machine-gun fire. 
 By December the battalion had moved to the Belgian border, at Pont de Nieppe, near Armentieres.  On 17 February 1917, it undertook another attack, 2/Lt Rowe leading A Company.  Many prisoners were taken and there was successful bombing of enemy trenches.  It is probable that it was in the latter engagement that Harvey Rowe was awarded the Military Cross.  The citation, cited in the Gazette of 28 March reads:
"For conspicuous gallantry during a raid on the enemy's trenches.  He was the first to enter the trench, and himself accounted for five of the enemy.  He then organised the clearing of the trench with marked coolness and ability, with the result that heavy casualties were inflicted on the enemy."
In 28 March 1917 he was promoted to Lieutenant, and to Acting Captain on 20 July.  During the assault on the Bellewaerde Ridge on 31st July and following days, 10/Cheshires had been in an exposed and untenable position and the casualty figures were devastating at up to 25% of the fighting strength.  It seems that Capt. Rowe was unscathed in this action but he was slightly wounded in action about 9 August.
Harvey Rowe was killed by a German aeroplane attack while in parade ground at camp behind front lines, Dominion Camp, on 20 August 1917.  One Other Rank was killed with him and 20 others wounded. He was interred at Reninghelst New Military Cemetery at Plot III.A.6, near Poperinghe, West of Ypres:
"A true and gallant soldier beloved by all that knew him"
The village of Reningelst was occupied by Commonwealth forces from the late autumn of 1914 to the end of the war and was sufficiently far from the front line to provide a suitable station for field ambulances. The earliest burials took place in the Churchyard, but in November 1915, the New Military Cemetery was opened. It remained in use until September 1918. There are now 798 Commonwealth burials of the First World War in the cemetery. The cemetery was designed by Sir Reginald Blomfield.
Both of Harvey's brothers survived the War.
Henry James Rowe MM  went on to become commissioned in 10/Cheshire Regiment that September.  He ultimately became a Lieutenant in the Machine Gun Corps.  He married in 1934 and settled in Hendon.  He died in 1969.
Basil Affleck Rowe conscripted at age 18 in early 1916, attesting into the Artists Rifles, 28/London Regiment as a Private.  He was in France by November 1916.  We was briefly hospitalised in March 1917 with Influenza.  He was then wounded in action on 31 October 1917, repatriated for treatment, finally being classified unfit for further active service overseas.  He was discharged from the Army in January 1919.  After the war, he continued living with his mother in Bedford Park and then Dukes Road until her death.  In 1939, he lived in Brent, a Marine Insurance Broker.  He never married, and died in 1974.