Private Brian Stewart FLOOD
Killed in Action 25 January 1917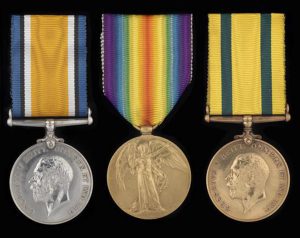 Brian Stewart Flood was born Hammersmith on 4 October 1894.  His parents were Frederick Lloyd Flood, born 1860 and Florence Mary Flood nee Milligan.  They had been married in Cheltenham parish church on 18 January 1993, being witnessed by Frederick's elder brother, Edgar Henry, then a law student .   The brothers had lodged together for several years – at the 1881 census, they lived in Chelsea, Edgar then a brewer, and Frederick, 8 years his junior, was an Art Student.  At the time of his marriage, Frederick Flood is stated to have been an actor.  Florence was the daughter of a doctor.  The couple's first child had been named Hilda Edith, and she was born in 1893.  It seems that the second child, Brian, had actually been named  Eric Oscar at his birth, though not baptised.   Quite why his name was changed at his baptism is not clear, but his father had petitioned for divorce in 1897, citing an Edwil W Pugh as co-respondent. 
Brian Stewart  was only baptised at Christ Church Turnham Green at the age of nearly 4 on 9 March1898 by Revd. Prescott.  The couple allegedly were both still formally resident in 1898 at 4 Wellington Street, Cheltenham at the time of Brian's Baptism.  Frederick was described as "Gentleman" (not Actor) in the Baptismal Register.  Neither parent seems to be have been present at the ceremony.  The divorce was declared 'absolute' six months later in September 1898.  Neither of the respondents had contested the action, and custody of the children was granted to the father, Frederick.
It seems Brian would have been fostered and boarded in Chiswick.  In the 1901 Census return it is clear that Brian and his sister Edith lived as young lodgers at 20 Heathfield Terrace in the home of sisters, Helen and Emily Seymour Turner, who acted as their carers.  In the house also lived another Flood child, Kathleen, born in 1896.  She was in fact the only child of  Frederick Flood's brother Edgar Henry, who had married Evelyn Kate Luckie, an actress, in Cheltenham in November 1893, in the same year as his brother.  It seems very likely that Frederick had introduced his brother to his future bride.  Certainly Evelyn continued her stage career after her marriage for a period after her daughter was born, so it is likely that temporary fostering had been arranged by both the Flood brothers at the time of Frederick's divorce.  In 1911 the Flood cousins had moved to 19 Harvard Road, Chiswick, with Brian now 16 and Kathleen  aged 14  Sharing the house at that time was a Government Medical Officer, Dr Joseph Nurse (48) with his wife Ellen and their children Rachel (6), Charles (4) and Walter (9mths), recently returned from the West Indies and another lodger Mary Ord (77).  Brian worked as a clerk at a firm of accountants.  Kathleen was still at school.  Brian's elder sister lived elsewhere.
Brian Stewart Flood enlisted at Stamford Brook as Pte. 1802, 10th Battalion. Middlesex Regiment presumably as a Territorial, before 4 August 1914.  The Battalion was part of the Middlesex Brigade in the Home Counties Division.   On 30 October 1914 it sailed from Southampton for India, arriving Bombay on 2 December 1914.  The 1/5th (Weald of Kent) Battalion was part of the Kent Brigade, in the same Home Counties Division. The Division was broken up on arrival in Bombay and it would have been while in India that Brian would have been attached to the latter battalion, as Pte 242922.
The 1/5th (Weald of Kent) Battalion then transferred to Mesopotamia in November 1915 in the 35th Indian Brigade, formed in December 1915 and arrived in the Gulf in the same month. It was attached to the 7th (Meerut) Division  until February 1916.  While with the division, it took part in the failed attempts to relieve the 6th (Poona) Division besieged in Kut, in January 1916. The British sustained 2,700 casualties. The well-prepared Ottoman positions, notably the well-sited machine gun nests, forced them to abandon the assault and withdraw the relief force to the base of Ali Gharbi.  Medical care was practically non-existent. Many British wounded suffered unnecessarily, and morale plummeted.  Despite two more relief attempts, the garrison at Kut-al-Amara was forced to surrender on 29 April 1916.  
The 35th Brigade moved to 14th (Indian) Division in May 1916. The battalion saw further action undertaken by the 14th Division in December 1916 in the Advance to the Hai  and capture of the Khudaira Bend, followed by the Capture of the Hai Salient from 25 January to 5 February 1917.  It was on the first day of that Divisional attack that Brian Stewart Flood would have lost his life.  He would never see the successful re-occupation of Kut and subsequent capture of Baghdad.
Brian's sole legatee was his "landlady" in Chiswick, Helen Turner.  None of his medals were accepted by her.  He had been awarded the Territorial War Medal, the rarest of the five World War One Campaign awards, as he had been a Territorial soldier at the start of the War, but not eligible for the 1914-15 Star having not seen first action until 1916 despite serving overseas, and being posted to an Eastern theatre during 1915.  He was also awarded the British War and Victory medals.
Nothing further is known of Brian's sister Edith, nor of his father or mother.  His uncle remained in Cheltenham until his death in about 1923, a wealthy solicitor.  His marriage continued until his death, and his wife was with him after the War, living in the Cheltenham property long after his death.  Nothing is known of Kathleen, his cousin.