2/Lieut Archibald Clare HOLLAND
Killed in Action 27 July 1916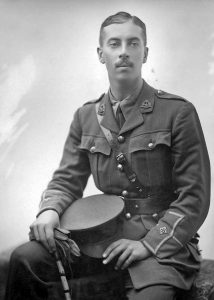 Archibald was the youngest son of Dr James Frank Holland, His Britannic Majesty's Consul for the Engadine, and Resident Physician at St Moritz, Switzerland, and of his wife Jeanette Calder Holland.  He was born in Ragaz, near St Moritz, Switzerland on 1st April 1888.
At the onset of the War, Dr and Mrs Holland came to live in Bedford Park, initially at 8 The Orchard, but latterly at 6 Queen Anne's Gardens.  James died in Bedford Park  on 3 May  1933, and his widow afterwards resided with her daughter Effie Janette , dying at Port Antonio, Jamaica on 7 August 1942, at age 95.  Archibald had two elder brothers, Guy Cuthbert, born in 1878 and Hugh Moritz, born 1882.  Both survived the War, and Hugh rose to become a Major in the Royal Garrison Artillery, earning a DSO.
Archibald was educated at Harrow School.  After leaving school he went to Neuchatel and then to Merton College, Oxford, obtaining a B.A. in 1910.  He was in the Oxford University Tennis Team 1910-11, and captain in 1911.  On coming down from Oxford he entered Messrs. Rothschild's in New Court, as a clerk.  He was a member of the Junior Carlton Club.  In 1911 he was lodging at Thornton Heath, Surrey.  There is nothing to suggest he ever lived in Bedford Park.
2nd Lieut. Holland enlisted in the Public Schools Battalion, (18th (S) Battalion, Royal Fusiliers Private 1634) on the outbreak of the War  and was promoted Corporal in that unit before in May 1915 being  given a Commission in the Bedfordshire Regiment.  He went to France in January 1916, and served for some months in the 10th Entrenchment Battalion, being subsequently attached to the 1st Battalion, Bedfordshire Regiment.   5th Division; 15th Brigade.   He was killed by the bursting  of a shell on the night of July 27th 1916, while leading his men in Longueval, near Delville Wood.  The War Diary entry includes a report by the Battalion Commanding Officer, Lt. Col. Allason, with an accompanying sketch map, describing that day's fierce fighting which culminated in Holland's death and 35% of the Battalion's Officers and men alike..  The modern day aerial map image is superimposed with an aerial view of the area of the 1916 fighting.  Archibald Holland's body was never found, and he is commemorated at the Thiepval Memorial
Lt-Col. Allason, commanding 1st Battalion Bedfordshires wrote:"You will by now have heard of your son's death in action on 27th inst.  He is a great loss to the regiment, always cheery and a great favourite with the men.  We all sympathize most deeply with you."
Lt. Ernest Jungius wrote:"It grieves me to have to tell you that Archie was killed during an attack on the 27th.inst.  His last words to his captain were:'Carry on, old man, don't worry about me.  I'm all right.'  I and the rest of the Officers cannot express to what extent we feel his loss.  The men simply loved him and they expressed their love in the only way they knew and that was during the rest of the fight.  It will interest you to know that the Battalion did exceedingly well."
Lieut. Francis E Jones, RE, 10th Entrenching Battalion, wrote:"I know how bitterly you will feel Archie's loss.  At the same time you must be proud that he died while so nobly doing his duty.  Our Commanding Officer told me, soon after he came to us, how very proud he was to have such a fine Officer in the Battalion.  He was greatly liked by both Officers and men, and on works was the most painstaking Officer I have ever had."
Archibald's father's distress is evinced by a letter he wrote soon afterwards concerning the failure of the War Office agents to return his son's valuable binoculars and watch, contained in the officer's service records.  Presumably the good Commanding Officer had attempted to spare the grieving Dr. Holland details of the violence of his son's death.