Lieutenant Colonel George Koberwein Fulton DSO
Killed in Action 14 April 1918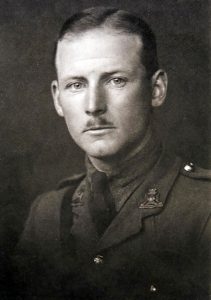 George Koberwein Fulton's aunt, Agnes Fulton was daughter of Hamilton Fulton, a "well-known engineer" who owned and lived at Bedford House, The Avenue, Acton Green.  In 1872 She married Jonathan Carr.  Jonathan Carr bought 24 acres of local land from his father-in-law in 1875 and developed the Bedford Park Estate.  In 1901, he, with his wife Agnes, and their son Jonathan Fulton Carr, a barrister of 25, unmarried, lived at Tower House, The Avenue, Bedford Park.
Agnes' brother was another Hamilton Fulton, a solicitor, who married Rosa Koberwein, and lived in The Close, Salisbury.  Her father was an artist.Their children were: Hamilton Koberwein (1880), Agnes Elise (1882), Rosa Edith (1883) and  George Koberwein Fulton who was born in Wiltshire on 29 September 1884.  
George was educated at Marlborough College between 1898 and 1902, and then at Brasenose College Oxford, where he was the coxswain of the college boat.  At the 1911 census he was living with his parents in The Close, Salisbury, and was an articled solicitor in his father's firm at 12 Rollestone Street, Salisbury. He married Eleanore May Gardiner MacKay (daughter of the late George H MacKay, a doctor from Ashtead, Surrey) on 15.8.1912.  He was aged 27 at time of marriage, she was 22. 
George Fulton volunteered early in the War – he was commissioned and gazetted Lieutenant in the 8th Battalion, Wiltshire Regiment on 25 January 1915.  (gazetted
11.3.15).  He proceeded to France with 6th Bn. Wiltshires in August 1916 and from that time, with the exception of an interval spent on the Senior Officers' Course at Aldershot he was almost continuously fighting until his death.
He was promoted Lieutenant Colonel of 9th battalion Cheshire Regiment on 10 December 1917.  From 21 to 28 March 1918, during the German Offensive he was in command of the 9th Battalion when in action with the 51st Highland Division near the Bapaume-Cambrai Road and survived after many escapes with only 3 officers and a few men.  This action was specially commended by the Commander in Chief.
Lt.Col. Fulton was again engaged with his Battalion at Neuve Eglise in desperate fighting against great odds, until he was killed during a personal reconnaissance on 14 April 1918.
He was posthumously awarded the DSO for his skilful and gallant leadership:
"For conspicuous gallantry and devotion to duty in handling his battalion in a most skilful manner.  He set a splendid example of courage and disregard of danger, and was indefatigable in arranging the battalion dispositions , and personally supervising its movements.  At all times when the situation was critical he was up in the front line encouraging his men and taking part in the fighting."  (Gazette 16 September 1918, page 10866)
Of his siblings, Hamilton K Fulton married Gwendoline Tremaine Godfree (1883-1962) and died in Brighton in 1963. He had been appointed OBE.  Agnes Elise Fulton married Edward B Hampton (who died in 1911), and had two children, Edward F (1909-2003) and John F (1909-1996) presumably twins.  Rosa Edith was born in Chiswick and married Walter R Chance in 1908.  Her children were Vivien (1909) and Ronald F (1911).