Rifleman Charles Henry YOUNG
Killed in Action 21 May 1917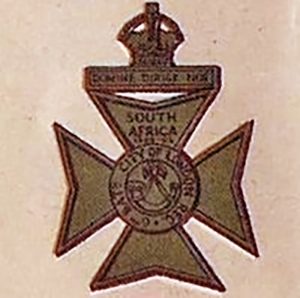 Unfortunately, we have so far failed to establish any link to the Parish of Bedford Park to account for the inclusion of the name of Charles H Young on the Parish Memorial plaque.  The following details refer to the most likely candidate of those recorded by the Commonwealth War Graves Commission.
Charles Henry Young was born in Willesden in 1897.  His parents were Edward Arthur Young with his wife Eleanor Kate.  Edward was a wholesale coffee and tea dealer.  In 1901, the family was living at 20 St Mary's Road, Willesden in the parish of St. Matthew.  Charles had 3 elder siblings.  Arthur E, the eldest was born in 1889, Dorothy Eleanor in 1890 and Harold Francis in 1895.  By 1911, the family had moved to a larger house, "Fairfield" in Thornton Heath, Surrey, and there was another daughter, Gwenyth Margaret, who had been born in Willesden in 1903.  Arthur had moved away.   Dorothy, a kindergarten teacher, was now aged 20 and Harold (16) worked as a Clerk for a firm of merchants dealing with Australian and New Zealand produce. Charles (14) was still at school. We know that Dorothy married a driver in the Army Service Corps, George Graham Taylor in 1917, and Gwenyth was eventually married in Croydon (St. Saviour's) in 1925 to Arthur Bennell.
It seems likely that Charles will have volunteered early in the war, as his medal card bears a low regimental number, 6544, which, much later in the war, was changed to 323403, presumably when the Battalion first embarked for active service in the Western Front in 1917 (see below).
He joined the 2/6th Battalion (City Rifles),London Regiment that was formed at Farringdon Road after the 1/6th Battalion marched away in August 1914. The regimental staff were overwhelmed with recruits, 1100 being attested immediately. In October 1914 the London TF Association rented a large country house, Mount Felix at Walton-on-Thames, to accommodate the battalion and provide training facilities. The 2/6th Bn was assigned to the 2/2nd London Brigade (later 174th (2/2nd London) Brigade) in the 2/1st London Division, which was numbered 58th (2/1st London) Division in August 1915. The Brigade concentrated in Sussex in November 1914, first at Burgess Hill, later at Crowborough. In May and June 1915 the whole division concentrated in East Anglia.
Initially, 2/6th Battalion's role was to provide reinforcements for 1/6th Battalion, and it sent large drafts to the senior battalion in February (just before 1/6th went overseas), August and September 1915 (after the Battle of Loos). After that, the practice stopped as the 58th Division was itself prepared for overseas service, and the duty of providing reinforcements fell on the 3/6th Battalion.
In July 1916, 58th Division left its coastal defence role and concentrated at Sutton Veny for final training on Salisbury Plain before embarkation for the Western Front. The battalion disembarked at Le Havre on 25 January 1917 and went into quiet sections of the line near Arras to familiarise it with trench warfare. In March it advanced to follow the German retirement to the Hindenburg Line.
The battalion's first offensive operation was on 20 May 1917, when it joined in the Battle of Bullecourt. For six weeks the village had been attacked by British, Australian and New Zealand troops, and it was fully in their hands by 17 May. The 2/6th London entered the ruined village the following day and their task was to capture Bovis Trench beyond the village. A and B Companies made the attack behind a barrage, the other two companies protecting the flanks. But the attackers could not recognise the shelled-out trench that was their objective, so they went 200 yards beyond it and then tried to dig in. Having lost direction, a gap had opened between them and C Company on the left flank, into which enemy parties infiltrated. The attackers had already suffered badly from the German defensive barrage, and now the battalion was reduced to small parties that were forced back by a German counter-attack. This failure cost the newly arrived Battalion roughly half its strength in officers and men. It was unable to make a major effort for several months.
Charles Henry Young was presumably killed in this first offensive action his Battalion fought.  His body was never recovered.  He is commemorated at the Arras Memorial .  He was awarded the British War and Victory medals, which were sent to his parents.  He was aged 21 and unmarried.