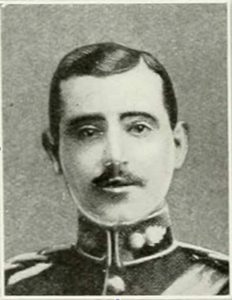 When Clive was born in Dulwich, South London on 9 May 1887, his father Samuel Guise MOORES was a 50-year-old retired army officer, and his mother Priscilla was aged 43.  Samuel had been a Lieutenant-Colonel in the Devonshire Regiment, and had seen service in India, fought in the Mutiny and in the Egyptian War of 1882.  Clive was the youngest of seven children.  The eldest, George, was born in India in 1862, but unfortunately died in early infancy.  Their next son, born in 1863 in Ireland, was christened, like his father, Samuel Guise.  The daughters were Evelyn (1867) and Priscilla, also born in Ireland, (1869).  Charles Francis Guise (1873), and Frank Gerald Guise (1885) were born in India.  All four of Samuel Moore's surviving sons eventually followed him into  military careers and became professional soldiers, each of them commissioned officers in their respective Regiments.
In 1901, Clive was to found at a small residential private school in Shipdham in Norfolk, but by 1906 he had entered the Military Academy at Woolwich as a gentleman cadet, gaining his commission as Second Lieutenant in the Royal Engineers, having passed out head of the list.  He was awarded the Pollock Medal, at Woolwich in 1906, also the Haynes Medal, in the R.E. in 1909. It was while at RMA Woolwich, in 1904, that his mother Priscilla died.  His father remarried in 1907 to Rosetta Lucy Hanwell, from Norfolk (born 1860 so 23 years younger than her new husband).  In 1911, Samuel (senior) and Rosetta had moved into 22 Woodstock Road, Bedford Park.  There they remained until Samuel's death in 1924.  Clive was elsewhere, and there is no evidence that he, or any of his siblings ever resided in Bedford Park, except perhaps on visits to his father and stepmother.
Clive was promoted Lieutenant in November 1908.  From January 1911 until January 1914 he was employed on the Boundary Delimitation Commission in Peru.  On his return, he joined 56th Company, Royal Engineers and at the outset of war disembarked at Rouen from SS Fauvette to join 3rd Division, B.E.F.  The Company was engaged in various front-line engineering duties, being present at the Battle of Mons.  During the subsequent retreat, he led a successful bridge demolition party at Varesnes on 30th August 1914.  The very detailed war diary contains Lt. Moores' detailed demolition records.  The Company worked hard preparing defensive positions during the 3rd. Division's retreat, and then its September advance from the Marne two weeks later, being in the thick of it at the Battle at Chassemy and at the Aisne where a pontoon bridge was constructed, the work continuously hampered by enemy shell fire.  Clive's detailed plans for the bridge were also included in the War Diary The Company moved in October to Neuve Chapelle, being heavily engaged in trench construction for various brigades, under constant fire.  In November, the Company was moved across the Belgian frontier at Locre.  They were involved with digging second line trenches, "3 miles east of Ypres", under fire, and very poor weather.
He was promoted Captain in about October 1914, but at 18th November he was unaware of this, and the Diary at that date states that "names were called for despatches" and Lt. CG Moores' name was "sent in".  On 30th. November, in the front line at Kemmel, there is a separate note stating:"Capt. Neville wounded, Lieut. Moores killed", and the main diary says: " Lt. Moores killed whilst working in the front trenches; Capt. Neville wounded, ditto."  and the next day: "Lt. Moores was killed last night and Capt. Neville wounded by a German sniper."  Another separate note records: "German saps to within 15 yards of firing line."  A separate account by eye-witnesses states (of Capt. Lionel Neville) that within an hour of his arrival on duty in the firing zone at Kemmel, he was wounded by a chance bullet, which after passing through his chest lodged in the heart of his brother officer, Captain C. G. Moores, R.E.  His service record states that he was transported to the No. 2 Clearing Hospital, but was found to be dead on arrival through loss of blood.
Clive Guise Moore's body was buried at Bailleul Communal Cemetery, Nord, France.
He had appointed his brother, Frank Gerald as his sole executor, but because the latter had joined the Army Service Corps, and stationed in Jamaica, his father had to be appointed the latter's attorney for the purpose of probate.  A letter from him in Clive's service record illustrates the chillingly efficient way in which the War Office dealt with the affairs of the war fallen.  It is clear that at this early stage in the war, officers travelled with much equipment:  In Clive's case he had already sent his father his two Woolwich Gold Medals and his motor cycle, but Lt. Col. Samuel Moores clearly was anxious about the return of his son's Kit-Valise, and his own 42 year-old ceremonial sword given to his son, presumably a gift at his commissioning.  His promotion to Captain was recorded in the London Gazette posthumously.
Of Clive's siblings, the eldest, Samuel Guise Moores II, had an illustrious career in the Army Medical Corps.  He had qualified as a doctor at St Thomas' in 1888, and was commissioned Surgeon Captain, serving at the NW Frontier, and in the South African War, gaining 6 clasps to his Queen's Medal.  He had promoted to Colonel in the RAMC by 1915.  He was greatly decorated: CB 1915, CMG 1918 and became Major General in 1919.  He was knighted as Sir Guise Guise Moores KCB in 1925, became Honorary Surgeon to the King,  and in 1933, KCVO.  Frank Gerald Guise Moores rose to Colonel in the Indian Army, and was awarded an OBE  and Charles Frederick Guise Moores became a colonel in the Army Service Corps, being awarded the DSO.
Sir Guise's son, Bruce Kirkman Guise Moores, Clive's nephew (b. 1893) joined the Royal Garrison Artillery during the war, gained an MC and survived, rising to the rank of Major.  He served post -war as Governor in turn of Parkhurst, Winchester and Wakefield prisons.