Sub-Lieutenant Carl Philip Pitney DIETERLÉ
Died January 1933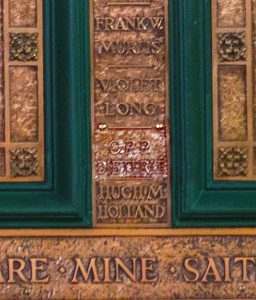 Carl Philip Pitney Dieterle was married at St Michael and All Angels Church, Bedford Park on 29 April 1911.  His bride was Elsie Thornhill, the daughter of one of the parish sidespersons, Hubert Thornhill, a retired silversmith.  Hubert, with his wife Anna Mary, lived at 40 Priory Road (now Avenue).  He died on 6 February 1928, but his wife Anna continued there until her death on 13 September  1948 at the age of 101.  Carl and Elsie's marriage was solemnised by Revd. Richard F Mallam, Carl's stepfather.  At that time, Carl was said to be a stockbroker.
Carl had been born on 9 March 1884 at Dorset Place, Weymouth.  His parents were Karl Gustave Frisch Dieterlé, a teacher of languages, originally from Wurternberg in Germany, and Ida Aline Launitz Davis Pitney.  They had married in Weymouth in 1876.  Karl and Ida had moved to the village of Bloxham in Oxfordshire by 1881. Carl had been baptised in Weymouth at Holy Trinity Church on 20 April 1884.   Sadly, it seems that his father Karl had died at the age of 35 in 1885.
Ida Dieterlé remained in Bloxham, and on 2 April 1891 she married the Vicar of the parish church, Revd. Richard Freeborn Mallam, in a ceremony conducted by Revd. CFH Johnston.  In the meantime, the Census for the same year  finds her 7 years old son Carl at the Weymouth home of an uncle, William Weston.  By 1901, Carl was to be found in Hammersmith, a 17 year old clerk, at the home of his step-uncle, a surgeon, William Prior Mallam, with his daughters, and another nephew, Charles Mallam Johnston, presumably a son of Revd. Johnston.
By 1913, Carl and Elsie Dieterle had settled in Milford, near Godalming.  Their daughter, Hester was born on 1 March 1913.  It seems that Carl had become the Partner and Company Secretary of a Partnership of Cinematograph Proprietors, styled the Liphook Cinema Company.
After outbreak of the Great War, from 22 December 1914 the Cinema partnership was dissolved.
We do not know when Carl enlisted.  It may have been by conscription no earlier that 1916.  He initially entered the Army Service Corps as a Private, rapidly progressing to the rank of Sergeant.
He applied for commissioned status, and became a Cadet Officer at 10 Officer Cadet Battalion at Gailes Camp, Ayrshire.  At that time his registered address was  at 3 Ranmore Mansions, 36 Hammersmith Road W14, though his wife's contact address became the Vicarage, East Tytherley, Salisbury (presumably the then address of her parents-in-law).  Carl gained his commission as Sub-Lieutenant, RNVR from 30 May 1917.  Initially in the 4th. reserve battalion from July, he was drafted for overseas service in Nelson battalion, joining it at the front on 13 November.  He became sick with Myalgia and was passed through a Field Ambulance to 3rd. General Hospital, and thence via HS "Warilda" to Countess of Radnor's Hospital at Longford Castle, Salisbury.  He was only considered again fit for general service on 8 April 1918. 
 He finally returned to front line duty with Hawke Battalion on 2 May.  The great German Spring Offensive had run out of steam in mid-April and the British front zones were consolidating.  The 189th Brigade, including Hawke Battalion was in an area east of the village of Mensil  just north of Albert.  Carl was severely wounded after less than three weeks at the front.  On the night of 18 May the battalion undertook an exploratory raid to the German lines.  Carl was not in the  company was that involved, but providing covering fire from the front British trench under heavy bombardment.  The raiding party was successful in returning with several prisoners, with the loss of  only one officer and 10 other ranks.  Carl was the only other officer of the battalion wounded, sustaining  extensive shell and gun shot wounds to both legs, abdomen and genitalia, together with burns.  He was immediately transferred from 2nd. Red Cross Hospital Rouen, via AS "St David" to Royal Victoria Hospital, Netley, where his left leg had to be amputated, and underwent extensive and prolonged treatment at British Red Cross Hospital Netley until being declared permanently unfit  for general service on 16 August 1918 , retaining his rank .  He remained in hospital  for many months, being finally being Invalided from the Navy in August 1919.  He died 14 years later, in 1933, at the age of 49, no doubt hastened by his widespread war injuries.
After the war, the family remained in Hammersmith at Ranmore Mansions.  Carl was eventually able to undertake some employment, as a clerk in the General Post Office.  In due time, his daughter Hester took up similar employment.  She never married.  After his death, Elsie and Hester moved back to Bedford Park, living with Elsie's mother Anna at 40 Priory Avenue where they were registered in 1939.  Elsie became a Remembrance worker for the "League of Remembrance".
It is something of a mystery how Carl Dieterlé's name became inscribed on the St Michael and Angels Church War memorial since this had been erected soon after the war's end.  It may possibly have been added while he was still gravely ill in hospital, though it is more likely that it had been added after his death.   The Thornhill family had been loyal, active and long-standing members of the parish congregation.  A brass memorial panel in the south aisle records both Hubert and Anna, and their son Oliver who died in 1938.  Both Elsie and Hester were tireless in the parish community until their deaths in 1974 and 1988 respectively.  Closely related to clergy, one can imagine how an addition to the War memorial could be be secured, especially as Elsie had been involved with a Remembrance Organisation.  The new vicar of St Michael's, Revd. Lewis Smith had himself fought in the War with the distinction of a Military Cross.