Lance Corporal Henry George Hall
Died as Prisoner of War c. 15 November 1918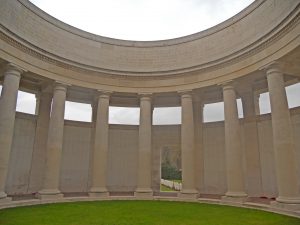 Henry ("Harry") George Hall's name is inscribed only on the St. Michael's Cadet Memorial.  We believe he was the eldest son of Henry Hall (38) and his wife Annie (36), who at the 1901 Census was living with their family at 20 Duke Street, Chiswick.  The father was by trade a Paper Stainer, so presumably he worked at the Sanderson factory.  In the household was a daughter, Harriett, aged 16, a bookbinder.  Harry was aged 10, and there were two further sons, George Frederick aged 9 and Albert aged 6.   All the children had been born in Barnsbury, North London.  Unfortunately, some time after the birth of her fourth son, Charlie in 1905 Annie Hall died. At the  Census return for 1911 the family had move to 75 Glebe Street.  Harriett, who now called herself Annie was at home looking after the family.  Her widowed father was now described as a Block Printer.  Harry had left home.   A Henry George Hall, born in Islington, aged 21 and unmarried could be found as a Private in the 9th. Lancers, quartered in Lydd, in Kent, but it is not possible to aver that he is our subject – he would need to have been a Cadet (or maybe in the Boys Brigade) at St Michael's only until 1908.
The accompanying images and documents represent our "best guess" about Henry George's story.
  A medal card indicates that he probably conscripted toward the Autumn of 1916 and initially was in  the 11th (County of London) Battalion, London Regiment (The Finsbury Rifles) as Private 6916.  At some time in 1917 he will have been transferred to the 20th Battalion London Regiment (Blackheath and Woolwich) with a Regimental Number of 648031.  Probably he spent most or all of his active war service in the latter Battalion.  Battle honours for the Battalion include Messines 1917 (where in fact his brother George Frederick was killed), Ypres 1917, Langemarck 1917 and Cambrai 1917 '18, after which it relocated in 1918 first to the Somme, and finally to Egypt and Palestine.  
From the Commonwealth War Graves Commission data, we know that he is commemorated at the Ploegsteert Memorial in Flanders suggesting that his last actions were probably in the Langemarck Battle, though his death is recorded as being between 1st and 15th November 1918.
From the War Pensions Records, it appears that his death was in Germany, where it seems clear he had been a Prisoner of War, captured in the Flanders engagement.  His pension and War Gratuity rights were granted only in September 1919 to his widow, Marian, amounting to just over £31, equivalent to £1075 in today's money.  It appears that Henry George Hall would have probably married during the early days of the War.
Marian will have received his British and Victory medals.  We do not know whether Harry  was aware that his younger brother George had lost his life at Messines.