Corporal CONRAD MICHAEL GIBSON (born Schneider)
Killed in Action, Cambrai, 30 November 1917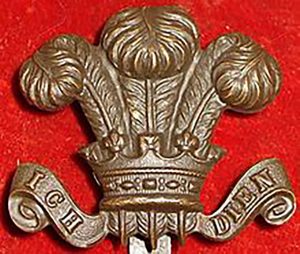 Conrad was born in Hammersmith on 19 February 1890. At the 1891 Census, he and his parents, Frank Louis Schneider and Marion Mabel Schneider lived at 87 Shaftesbury Avenue in the parish of St Peter's, Hammersmith. They had married in 1888. Frank was described as a professional musician, also born in Hammersmith, and a British subject.
Conrad attended Latymer Upper School from 1903 having been previously at Ardingley College, West Sussex. In 1911 the family lived at 53 Woodstock Road. From 1909, Conrad worked as a post office savings bank clerk. He had a sister, Elsa Pauline Cecile, born in 1894.
From his low initial service number it would appear that Conrad would have joined the Civil Service Rifles, a territorial volunteer unit from about the autumn of 1912, based at Somerset House. At the outset of the Great War he was living with his parents and sister at 60 Bath Road, Bedford Park. Clearly, in the years just before the war, because of the increasingly adverse sentiment towards Germany, they changed their surname to Taylor. Certainly, Conrad was referred to using that name in an entry in St Michael's parish magazine. Quite when he decided to adopt the surname "Gibson" is not known, possibly during his army service. The records at the Commonwealth War Graves Commission has him as "Gibson" with parents F L and MM Taylor.
Serving with the 15th Battalion London Regiment (Prince of Wales's Own Civil Service Rifles), 140th Brigade, Corporal Conrad Michael GIBSON took part in the Battles of CAMBRAI during November 1917. Conrad was killed in action on 30 November 1917 during a German counter-attack on Bourlon Wood in which the battalion took heavy casualties, and has no known grave. He is commemorated on the Cambrai Memorial, Louverval, France Plot Panel 12.
In the January 1918 edition of the Parish Magazine, the vicar noted that "During the past month Dunckley, Bavin, Taylor and Tolson have been reported as killed…. Taylor's father often helped with his violin in the Masses which were so beautifully rendered before the War."
Conrad made his will out to his father Frank Louis Taylor who was a "Professor of Music". Frank and Mabel were entitled to their late son's War and Victory medals.