2/Lieut. Maurice Richard Clift
Died of Wounds 4 August 1916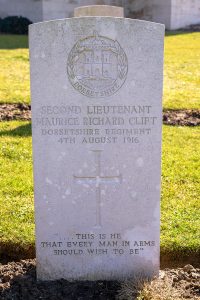 When on 28 March 1896 Alfred James Clift, born in Falmouth married Beatrix Gaskell born in Birkenhead at St Mary's Church, Stamford Brook, they set up home at 62 Flanders Road, Bedford Park.  He was a translator of languages.  The marriage was witnessed by Beatrix's relatives, Eleanor Lydia Gaskell, and Marian Gaskell.
Maurice Richard was their first child and was born in 1897.  His brother Rupert Carr Clift was born in 1899 and baptized 30 July of that year at St Mary's.  A third brother, Dennis Victor Clift, born 1901, was also baptized at St Mary's on 12 May 1901.  At the 1901 census, the family still lived at Flanders Road, and was being visited by Alfred's sister, Janette Clift.  They employed two resident female servants.
Unfortunately, Beatrix died just before Christmas on 18 December 1902.  Soon after her death, the family moved to 9 Queen Anne's Grove, Bedford Park.
All the boys were educated at Aldenham School, Elstree, Herts.  Maurice was active in the OTC there, eventually being the Colour Sergeant as indicated on his application for a commission.  He gained the Cambridge Matriculation and was awarded an Exhibition in Classics to Pembroke College Cambridge for 1915.
Maurice would have volunteered early on in the War, from University or soon after leaving school.  He served actively in France from 1915 as a 2nd Lieutenant, being gazetted on 8th April 1915 originally with 3rd. Battalion Dorsetshire Regiment, but then attached to 9th Bn. Devonshire Regiment from 26 September 1915.  He was wounded on 15th. October 1915, sustaining a gunshot wound in the right ankle, while in charge of a wiring party, which eventually needed treatment at Royal Free Hospital, London and a recovery period of several months.
On returning to active service, he re-joined the Dorsetshires, in its 1st. Battalion on 7th April 1916.   The War Diary confirms that the unit was situated in the Thiepval sector on the Somme.  On 7th. May Maurice was slightly wounded on a day that saw a fierce series of artillery-supported raids by the enemy on the Battalion's defensive positions, but the wounds were insufficient to cause him to be taken out of the line.  He would have been aware that two more senior fellow officers were both killed while on a reconnaissance patrol on 17th May.
In June, the sector was relatively quiet, occupied by base-line training well behind the lines until the start of the great planned offensive at the Somme at the beginning of July.  On 30 June the Battalion moved up to the front line for the "great push", and was placed in a start position in Authuille Wood, just SW of Thiepval.  Maurice suffered his fatal wounds during the heavily-defended attack of the morning of July 1st in which the whole Battalion suffered grievously, being unable to achieve any of its objectives.  Although Maurice's medal card was modified to "K in A" with the date of 4th August 1916, he in fact sustained severe abdominal gun shot wounds on 1st. July 1916 according to a telegram dated 5th July.   However his wounds allowed him to be transported well behind the front line, and, surviving first aid and a field clearing station he was transported eventually to 20 General Hospital, Camiers.  Although the records at Pembroke College have him dying in hospital as late as 18 August, the CWG record officially records 4th August, as does a War Office Telegram to his father.  Alfred Clift had in fact planned to visit his son in hospital in France in the first week of that August.
Maurice's  service record contains a poignant letter to the War Office from a Bedford Park friend of his late mother.
He is buried at the Etaples Military Cemetery close to Le Touquet,.  His stone is inscribed "…this is he that every man in arms should wish to be." (Wordsworth – The happy Warrior) at the request of his next of kin.  He is remembered in the Rolls of Honour of both Aldenham School and Pembroke College.  A memorial to the Dorsetshire Regiment, completed only in May 2011 is placed very close to the site of Maurice's last battle near Authuille Wood, and in sight of the great Lutyens Memorial at Thiepval.
Rupert Carr Clift, like his brother before him, served as a 2nd Lieutenant in the Dorsetshire Regiment, embarking for France  on 3rd. October 1918, a few weeks before the armistice, remaining there until the death of his father, Alfred James in 1919.  He thereafter lived at Woodside, Crapstone, Yelverton, Devon where, as his brother's next of kin he received Maurice's 1915 Star, British War and Victory Medals.  From 1924, Rupert became a schoolteacher at his old alma mater, Aldenham, where his own medals were delivered.  He died at the Landsdowne Club, Fitzmaurice Place London on 24 April 1937.
Dennis Victor Clift died in Plymouth in 1977 at the age of 76.