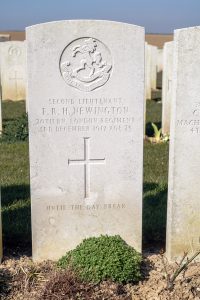 2nd Lieutenant Francis Reginald Hayes NEWINGTON
Died of Wounds 3 December 1917
Francis was the only son of Reginald Wilmot Hayes-Newington, an electrical engineer and Susan, nee Tennent, and was born in Lee Green, Kent on 19 December 1892. He was the fourth child of six. We know that his three elder sisters, Dorothy, Margery
and Winifred were both born in Bedford Park and baptised at St Michael and All Angels Church in 1883,1886 and 1890 respectively, and the family had lived at 8 Woodstock Road, and 42 Bath Road. By the date of birth of Joyce in 1897 they had moved again to Hatfield, where the youngest daughter Kathleen was born in 1900. They moved to the Blackheath area in about 1901. At the 1911 Census, Reginald, Susan and the family of girls, but not Francis, lived at Hampton. It seems that in 1912 Reginald voyaged to Melbourne, where he died in 1919.
Francis was initially educated at a Dame School in Blackheath, Lindisfarne School until May 1908 when he went to Felsted, in Stock's House where he featured in his house Running and Hockey sides, and reached the Engineering Fourth. He left school in Summer 1910 at age 17. He became an East India Company clerk.
He joined the 2nd. Battn. (Westminster Dragoons) County of London Yeomanry (TF) in February 1912; At the onset of the War he served in Egypt from Oct. 1914, with his battalion proceeding to Gallipoli in 1915 and took part in the advance there, under Sir Ian Hamilton KCB, 21st of the same month; was invalided home suffering from jaundice contracted on active service on 25 November following. He joined an OTC at Lichfield in July 1916 and was gazetted 2nd. Lieutenant, 20th Battn. the London Regiment. He served with the Expeditionary Force in France and Flanders from March 1917, and was attached to the 2/5th Battn. of the London Regiment (London Rifle Brigade), taking part in the fighting at Bullecourt in May after which h
e was invalided home with gun-shot wounds of the left arm and knee. He returned to France 15 October, and died in hospital on 3 December of wounds received in action at Bourlon Wood the previous day.
"He went into the wood in command of a platoon, and carried out most sterling work until the time he was hit; his Company Commander became a casualty and he took over the command of the Company on the spur of the moment, and continued to do most valuable work. I was most impressed by his gallant conduct." So wrote his Colonel.
Another officer said: " He was wounded while fetching a stretcher for his runner, who had just previously been killed, but whom he thought was not dead. He was standing on the top of the small trench where his men were, when he was hit by the shell splinter."
His Colonel at Winchester also wrote: "He was such a favourite with officers and men, and, in fact, among the hundreds of officers I have had in the last three years I do not remember one who was more generally esteemed as the best type of a cheery English gentleman." He was unmarried.
Francis is buried in the Rocquigny Road British Cemetery, Manincourt, SE of Bapaume. His mother caused his headstone to be inscribed: "Until the day break". She received his 1915 Star, and War and Victory medals. Francis was unmarried.
Other than at St. Michael's, Francis is also remembered on the war memorial within St Botolph's Church at Farnborough and on the war memorial on a brass plaque inside Christ Church, Lee and at St Mary's Church, Ticehurst. The plaque inscription reads: "In loving memory of 2nd Lieutenant Francis Reginald Hayes Newington 20th Battalion the London Regiment died of wounds received in action at Bourlon Wood, France, 3rd December 1917. Only son of the late Reginald Wilmot Hayes Newington, and Susan his wife.