Mrs. Violet Beatrix Alice Lambton LONG OBE
Lost at Sea 3 August 1918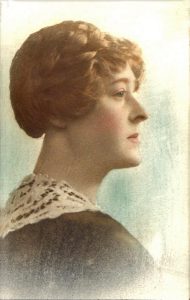 Violet Beatrix Alice Lambton Way was born on 30 April 1883, in Newcastle on Tyne, the fourth of five children of Colonel Wilfred FitzAlan Way and Henrietta Mary Ross.  He had served in the 4th Battalion, Somerset Light Infantry, latterly in India before retiring from service in the 1890s.  In the census record of 1901, Violet was living with her parents in Portsmouth, together with her elder married sister, Florence Edith Victoria Leach, whose husband, Henry Burleigh Leach was serving in the South Africa War with the Northumberland Fusiliers as a Captain.  (He subsequently served in command of 1st.South Wales Borderers at Ypres as a Lieutenant. Colonel).  A second daughter, Ethel Edith Hamilton Way had married Capt. Frederick Guggisberg in India.  Daisy Maud Annie Kathleen Way, the youngest daughter had been born in India in 1890.  Violet's elder brother,Wilfred Greville Martin Way had been born in Chatham in 1976, and was serving as a Lieutenant in the Royal Navy in 1901.  He served as a Captain in the Royal Horse Artillery during the War.
We are fortunate to have had access to Violet's photograph albums spanning much of her life, by courtesy of Martin Boyle, one of her grandchildren.  As a young girl towards the end of Queen Victoria's reign she seemed to have had a fairly carefree time, mainly based on the family home in Portsmouth, attending social events, military sports meetings, bicycling and other activities.
Violet was only just 18 when she married Captain William Edward Long (born 1873) at St George's Church, Hanover Square, between July and September 1901. 
William ("Bill") Long was the son of Colonel William Long (1843–1926), CMG, Somerset's Deputy Lieutenant and JP, of Newton House, Clevedon Somerset and Woodlands, Congresbury, Bristol –  a prominent Somerset figure.  His son was educated at Eton College and Oriel College, Oxford. In his turn, William Edward then held commissions with 4th Hussars and the Somerset Light Infantry, was wounded in the Boer War, and also saw service in Penang, Malay States, and elsewhere, accompanied by his young wife until he was transferred to the Reserve of Officers in about 1908.  During their return from the Malay States, the couple spent time in Aden and  Cyprus and visited Gibraltar and Spain, where her sister Florence accompanied them – when her uncle had been posted there as  Governor.  Many of the photographs from this time capture much of the atmosphere of the Edwardian period.  Recalled early for service in the War in 1914, "Bill" served in the  Remount Service, rising to the rank of Major.
The couple was therefore steeped in military service.  Violet had two daughters, Felicite Annette Cynthia, born in 1905, and Violet Maud Edith in May 1911.  A third child died in infancy.  It seems it was in about 1910-11 that the family moved to London, initially in Battersea at Overstrand Mansions. While there, Violet had witnessed the funeral procession of King Edward VII, and also the Coronation procession of King George V.  The family will have moved to Bedford Park in about 1913, briefly in Bath Road, and then at 4 Abinger Road. 
After war was declared in 1914 Violet determined to follow her sister Florence in serving the war effort. Initially, she trained in first aid and maternity nursing in a voluntary civilian capacity, forming a local Voluntary Aid Detachment (VAD) and serving the local poor in Chiswick.  She undertook classes in the St Michael's parish rooms.  When the Marchioness of Londonderry's Women's Legion was launched in 1915, Florence her sister volunteered and soon rose to a senior administrative position. The Women's Legion was involved in many forms of work, including cooking and catering for the army at home. It was influential in encouraging the Government to organise female labour in the last half of the war.  In 1917, the various women's voluntary bodies, Women's Legion, St.John Ambulance Brigade, VAD and First Aid Nursing Yeomanry (FANY) were reorganised into a paid government service, the Women's Army Auxiliary Corps, and the first WAACs went to France on 31 March 1917.  Mrs. Florence Burleigh Leach became its second Chief Controller and appointed her sister Violet as her deputy, latterly Chief Controller for Administration.  Both sisters were appointed to the Order of the British Empire in 1918.  Additional information about QMWAAC and role of the Way sisters can be found here.
Chief Controller Violet Beatrice Alice Lambton Long nee Way OBE died at sea in the English Channel on 3 August 1918.  The Ambulance Transport Ship HMAT Warilda in which she was travelling, on return from an inspection of WAAC units serving American troops in France, was hit by a torpedo from a German U-boat and sank.  The detailed circumstances of Violet's death, only 3 months before the end of the war, is described in a separate page of this account.  Both Felicite Annette Cynthia and Violet Maud, cared for after their mother's death by their aunt Florence, subsequently married and had families that thrive to this day.  Their father died in Malaga only in 1961. 
Other than on St Michael and Angels Parish memorial, Violet its commemorated at St. Andrew's church, Clevedon, Somerset , on the Hollybrook Memorial in Southampton and on the "Women of the Empire Memorial, York Minster, created in 1923 when the Five Sisters window was reconstructed after the Great War and to which it was re-dedicated.    An obituary in the Chiswick Times quotes the Vicar of St Michael's:  " ….she was a splendid specimen of womanhood whose loss will be deeply mourned by all who knew her.She helped in the training of a large number of candidates in the Parish Hall for the examination by the St. John Ambulance Society, who are now doing good work for the Empire at this crisis  She was able and pleasant in her manner, with a good capacity for organisation  … Among the many from Chiswick who have done honourable service and sacrificed their lives heroically for their country the name of this gracious lady will be remembered with sorrow and yet with pride."
 She was aged 35 at her death.
We particularly offer our gratitude to Martin Boyle for his generous help with this biographical account.