Private Leonard George DUNCKLEY
Died of Wounds 21 November 1917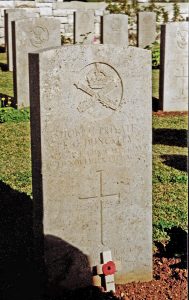 Leonard Dunckley was born in 1888 in Barnes. Later, his parents Henry, a cabinet maker, and Mary Dunckley moved first to 48 Cranbrook Road, Chiswick and, by 1911, to Linden Gardens, just outside the parish, on the South side of Chiswick High Road. He had older siblings: Elizabeth, b.1877, Alice, b. 1880 and Henry W, b.1882. They had all been born in Kent.
Old registers at At Michael's tell us that Leonard was a regular worshipper, and for seven years from 1907 acted as a server and thurifer. His name appears in this capacity not just on Feast Days and Sundays, but at early morning masses on Tuesdays and Saturdays regularly as well. By felicitous chance, his last recorded official duty turns out to have been on Tuesday, 29 September 1914, St Michael's Feast Day. In the 1911 Census he is recorded as have been employed as a clerk for the N.S.P.C.C.
Leonard volunteered and enlisted with the 3rd County of London Yeomanry, "The Sharpshooters", a volunteer cavalry unit.  As part of the 2nd. Mounted Division, it sailed for Egypt on 28 April 1915. The Battalion diary records that, as reinforcements, 13 Officers and 317 Other Ranks landed, unmounted, at Suvla Bay, Gallipoli on 18 August 1915, "unmolested, but shelled soon afterwards". By then, as we now know, the amphibious attack which was to have retrieved the disastrous failure of the first Gallipoli landings that April had already ground to a stalemate. The division  moved into reserve positions at Lala Baba on the night of 20 August. On 21 August it advanced to Chocolate Hill under heavy fire and took part in the unsuccessful attack on Scimitar Hill together with the 29th Division (see map). For the next two months or so, Leonard's unit clung on in the inhospitable terrain, taking turns in the front-line trenches, constantly under desultory fire from Turkish snipers and artillery. Leonard's letter to the Vicar from Gallipoli can be seen here.
A few extracts from the adjutant Lieutenant Underwood's official war diary for the battalion gives just a glimpse of what it must have been like:
"21.8.15: regiment in advance to Chocolate Hill under heavy shell fire … attacked position E of Hill 112 which was held and improved. casualties: 7 Killed, 27 wounded, 8 missing"
"5.9.15: …digging communication trenches all day. Water here plentiful from well close by, and drinking water from another well further to our left. Heavy sniping at night and by day the only safe approach is along the trench we are digging now … "
"10.9.15: … various casualties from snipers' chance shot, enfilade shrapnel etc. Troublesome sniper from a certain tree and dugout some way in front of the Turkish trench. Two men tried to crawl out to deal with the sniper – one killed, the other recovered body with aid of covering party … "
"19.9.15: 8 Officers, 201 Other Ranks. Heavy bombardment of all British positions at 17.30 – batteries and ships replied and silenced bombardment. More bullets fall here than in the front trenches … daily loss of sick men to hospital is getting serious. Men very weak and diarrhoea is prevalent."
"27.9.15: Water in trenches very bad – rising levels need pumping out. Enemy broomstick bombs from trench mortar. 8 Officers, 175 Other Ranks."
"3.10.15: In last 3 days, 39 Other Ranks have gone sick. The amount of digging, draining and fatigues has been too much for them after 4 months of the Egyptian summer. Smell very bad from bodies in and around the gully."
'16.10.15: Sentence on Trpr. B—-, (court-marshalled for sleeping at his post) : Guilty – 3 years penal servitude – punishment remitted by GOC in C in view of special circumstances … "
By 20 October, the battalion had been told that they would not take over the front line again. They left Gallipoli on 3 November. The diary records that the whole Mounted Division required 3,500 men to replace the 80% lost sick, wounded or killed. By then, Leonard Dunckley's unit was down to 110 men.
On 16 November 1916, 3rd County of London Yeomanry embarked at Alexandria with 20 Officers, 429 Other Ranks and 471 Horses, bound for Salonika harbour, as part of the joint campaign with the French in Macedonia against the Bulgarian part of the Central Powers' Balkan Troop positions For Leonard's unit this was a fairly quiet period in high contrast with the horrors of 15 months previously. It only saw brief front-line service around Lake Doiran in March 1917 in which there had been only a single day of significant bombardment, with no casualties. A similar number of its complement returned to Egypt in June 1917, in readiness for the expected Autumn campaign in Sinai, Gaza and into Palestine.
Leonard's second letter to the Vicar, seen here, speaks clearly of the prolonged waiting, misery and sheer boredom of wartime military life for the ordinary soldier, were it not interrupted by the ghastliness and terror of the brief bursts of action. His letter also speaks of a homesickness, and a yearning for peace, and conveys a sense of tranquillity and forgiveness.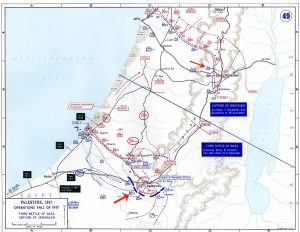 In July 1917, Leonard's cavalry unit , with other yeomanry, was reorganised to form the 8th Mounted Brigade, 74th Mounted Brigade, 21st Division of the Egyptian Expeditionary Force. In late Autumn Leonard seems to have been transferred to the
21st Machine Gun Squadron of that Division as part of General Allenby's Offensive in Gaza and Palestine. He would have been active at Beersheba in the battle for Tel el Khuweilfeh on 6 November. Rapid advances followed and the Brigade would have entered Ramleh by 15 November. The Battle for Jerusalem followed, from 21 November, accompanied by fierce resistance from the Turkish enemy. It is during this action that Leonard Dunckley will have sustained his fatal wounds that led to his death on 27th November. Allenby formally entered Jerusalem on 11 December, in time for Christmas as he had promised.  [In the map, the red arrows indicate where Dunckley's unit fought]
Leonard George Dunckley is buried and commemorated at Jerusalem British War Cemetery, Plot G, Grave 29. He was aged 28. His parents caused to be inscribed on his headstone: "He sacrificed All for England". He was awarded the 1915 Star and the War and Victory medals. His parents received total back pay of £9/12/1, and a War Gratuity of £14/10/0.
In January 1918, in the Parish Magazine, the Vicar Jacob Cartmel-Robinson wrote:
"During the past month Dunckley, Bavin, Taylor and Tolson have been reported as killed. … Dunckley, dear old Dunckley, most earnest of Servers at the Altar, and a famous swinger of the thurible – how we shall miss his cheery face. To think he is gone! A staunch churchman, and helpful in Services even on the field of battle, as we learned from a chaplain. Yet we will not grieve: he has but gone to higher service, near to us, though hidden from sight, where he is not alone: for friends with whom he worshipped here are there to join with him in "the new song" …Good-bye Dunckley, and God be with you!"