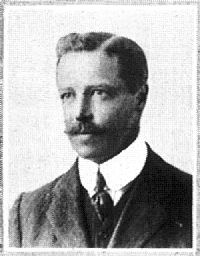 Captain George Arthur Murray DOCKER
Killed in Action 17 November 1914
George Docker was born on the 18th November. 1876, the elder son of Arthur Robert Docker, late of Sydney, New South Wales and Florence Lucy Docker. He was educated at Highgate School. In 1895 he scored 312 runs for its First XI and 44 wickets. He was a member of the MCC from1898; his best feat for the old club, in a total of 11 first-class matches, was to make 29 and 16 against Kent at Lord's in 1912. But he also played many "minor" matches. In 1909, against Staffordshire, he scored his only century. In 1912, he played against Hampstead at Lord's in an MCC team that included one A I Conan Doyle, himself no mean cricketer in a slightly earlier time. He also played for the Free Foresters and Oxford University Authentics, and in 1913 was a member of the M.C.C.'s team which visited the West Indies. In his only match against the combined West Indies team, he made 25 runs and took 2 wickets. One of the opposing players was Lebrun Constantine, father of Learie Constantine.
He was at Oriel College, Oxford, where he studied Law, and passed the Law Preliminary Examination, but did not take his degree, as in 1899 he proceeded to South Africa with the 3rd (Militia) Battalion King's Own Royal Lancaster Regiment. He had represented his college in cricket, football, and athletics, and played polo and cricket for his Regiment. He also won many prizes for athletics and golf. He was a member of the Inner Temple, and was called to the Bar in June, 1914.
He received his commission in the King's (Liverpool Regiment) in 1900, becoming Lieutenant the same year; he was transferred to the Royal Fusiliers in 1901 as Lieutenant, and was promoted Captain in 1908. Captain Docker served during the South African War, where he raised and commanded a section of Mounted Infantry at Zand River, and fought in the engagement there on the 14th June, 1900. Shortly after this, he was on the Staff of Lieutenant-Colonel White, R.A., for two months, while the latter was in command of a flying column sent in pursuit of De Wet in the Orange Free State, and also took part in the action at Ladybrand, 2nd to 7th September, 1900. In October, 1900, he joined the 1st Battalion King's at Machadodorp, in the Transvaal. From there he went to Balmoral, under Brigadier-General Barker, and was in several engagements, including an attack on Balmoral on the 19th November, 1900. Subsequently he had charge of a Mounted Infantry detachment at Wilge River. He was invalided home in June, 1901, having had a very severe attack of rheumatic fever. For his services he received the Queen's medal with four clasps.
In 1902, after six months' sick leave, he went to Burma to join the 1st Battalion Royal Fusiliers. In March, 1904, he was posted to the Depot at Hounslow. He rejoined the 1st Battalion at Parkhurst, Isle of Wight, in March, 1906. In that year he went through the musketry and Maxim gun courses at the School of Musketry, Hythe, passing out well in both examinations. From the 16th April, 1907, to the 31st July, 1911, he was Instructor of Military Law and Administration to "F" Company at the R.M.C., Sandhurst, which appointment lie held three months beyond the usual term. In June, 1910, he passed with honours his examination for promotion. On the expiration of his appointment at Sandhurst, he was sent to the 4th Battalion of his Regiment at Aldershot, pending absorption, and was ultimately posted to the 3rd Battalion in India.
He returned home in April, 1912, to take up the appointment of Adjutant of the 10th Battalion (Duke of Cambridge's Own) Middlesex Regiment. While Adjutant of this battalion, Captain Docker did a great deal to enable it to gain the reputation it has earned since its formation in 1908.
When the 10th Middlesex were mobilised on the outbreak of the war with Germany, they were sent to Sittingbourne, and very shortly after that, as both the Colonel and the Second-in-Command had to go on sick leave, Captain Docker was for some time in temporary command of the battalion, as well as being Adjutant, and his untiring zeal helped to bring it to a high state of efficiency, while his personal influence did much to raise the whole morale of the corps. At the end of October the battalion was ordered to proceed to India. They had actually embarked, and the ship was on the point of leaving, when Captain Docker was recalled by telegram for service with the Expeditionary Force, and was ordered to take out a draft of the 3rd King's Own Royal Lancaster Regiment to the 1st Battalion of that Regiment in Flanders.
He left England with the draft on the 8th November, and reached the 1st Battalion on the 15th November, 1914. The following evening he went into the trenches, and he was killed next morning, the 17th November, at Le Touquet, near Armentieres. He was buried near the station there, where there were already many graves of officers and men of the King's Own.
Captain Docker married in 1903 Anna Louisa Maud Josephine, daughter of the late Louis Arthur Goodeve, Barrister-at-Law, and left four children : Arthur Guy, born November, 1904 ; Peter Goodeve, born June, 1908; Michael Lee, born November, 1911; and Alison Everilda Josephine, born February, 1914. Descendents live in Bedford Park to this day.
In the New South Wales family, George's father, Arthur Robert, played for the State, and his Uncle E B Docker, who became a prominent politician, played for NSW as well together with
three cousins. Cyril Talbot Docker, the most established cricketer, played for NSW for a number of seasons and also for Australian Imperial Forces. KB Docker and PW Docker played for New South Wales.