Private Frank ADAMS 
Died on Active Service 7 February 1917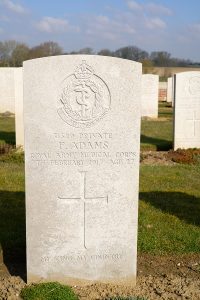 We have only scant knowledge of Frank Adam's vital records.  From the record held by the Commonwealth War Graves Commission we know that he was aged  27 at the time of his death in February 1917, and his father was  Edwin Adams who for some time towards the end of the War came to live at 21 Flanders Mansions, Bedford Park.  His mother was Mary Ann Adams.  It is clear that the family had previously lived in Stoke on Trent, where the father worked as a retail hatter.  Frank had an elder brother, Edwin Thomas Adams, who had worked as a railway clerk in Stoke on Trent, and a sister, Hilda Muriel, who was a school teacher.  Both Frank and Edwin Tom's names appear on St. Michael's Parish memorial, and the father, as a parishioner, had clearly requested that his sons' names should appear on the commemorative plaque.  There seems no evidence that either of the two brothers ever lived in Bedford Park. At the 1911 census, the family other than Frank still lived in Stoke.  It seems that Edwin Senior will have died by 1924, but his widow Mary Ann, and the unmarried Hilda Muriel remained at Flanders Road until the early 1930s.
We do not know when Frank will have enlisted for service after the outset of the War.  He joined the Royal Army Medical Corps and was posted to 44th Field Ambulance, a unit that served with the 14th (Light) Division.  Field Ambulances were mobile front-line units, each unit had responsibility for the care of casualties within one of the Brigades in the Division, with a capacity of about 150 casualties, taking them from Regimental Aid Posts, and organising Bearer Relay Posts to transfer to Advanced Dressing Station behind the lines.
The 44th FA was present at all the Divisional engagements after travelling to France in March 1915.  It travelled to Ypres and established itself in a convent near Locre.  Within 7 days it had established a first Dressing Station jointly with 2nd. N Midland Field Ambulance (46th Division).  Bearers went up each night for 24 hours duty, brought back wounded, who were dressed and sent to CCS.  It serviced the Action at Hooge and the Second Attack on Bellewarde.  It witnessed  the first Gas attack at Langemarcke on 22 April.  In June they re-located, first at La Clytte and then to the brickfields near Poperinghe.
In the 1916 Somme campaign it established a hospital in the Chateau at Fosseux for 200 cases.   It saw action at Delville Wood and the Battle of Flers-Courcelette. 
 In early 1917, before the start of the German Retreat to the Hindenburg Line, the winter had been bitterly cold.  The unit had transferred, in December, to Wanquetin in dreadfully cold weather, occupying corrugated huts in a compound nick-named the "Good Ship Lucknow".  There, Frank Adams died, probably of asphyxia.  This doleful event was recorded in a post-war book "With the 44ths" – A record of the doings of 44th Field Ambulance, 14th Division:
"A sensation was caused on the morning of 7th February when Frank Adams is found dead in his blanket.  It was thought that fumes from a crude coke fire caused his death by suffocation.  There was a unit Court of Enquiry, that concluded that he had had an accidental death from "natural causes"
Private Frank Adams was buried at Wanquetin Communal Cemetery Extension at Plot I.B.17.
At the request of his family, his headstone was inscribed "My King, My Country".