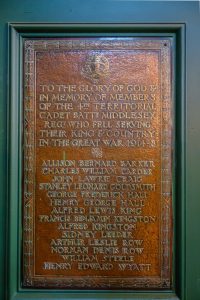 The Church Lads Brigade was founded in 1891 by Walter Mallock Gee* who was Secretary of the Junior Branch of the Church of England Temperance Society and a 'Volunteer' Army Officer. He conceived it strictly as an Anglican youth organisation. The prototype brigade was at St Andrew's, Fulham. He had been impressed with the non-denominational work of the Boys' Brigade, (1883), the first uniformed and militarised youth movement in the World. Gee wanted originally to create a Church of England section within it, but the Boys Brigade would not agree.  None-the-less, by 1908 the membership of the Church Lads brigade stood at about 70,000 in 1,300 companies. Between 1911 and 1930 it had become the largest force in the cadets in the country. More VCs were awarded to former members of the Church Lads Brigade than were awarded to former members of any other youth organisation. The 16th (Service) Battalion King's Royal Rifle Corps, sponsored by the Church Lads' Brigade, became known as 'The Churchmen's Battalion'.
*(Walter Mallock Gee was nick-named the 'Colonist' because he lived briefly at 12, The Orchard in Bedford Park from 1914. Bedford Park residents were often described as 'Colonists' as many were artistic types who looked upon it as a mini Utopia. He died in Bedford Park on 23 December 1916.)
St Michael and All Angels is known to have briefly supported a Church Lads branch, introduced by Father Cartmel-Robinson in about 1905 soon after his arrival from his previous parish in Hoxton. Its parish presence was reported in the parish magazine for several years but seems to have declined thereafter. In the years around 1908, when Robert Baden-Powell inaugurated his Boy Scout Movement, there had been the development a plethora of youth organisations of this type. Unfortunately, parish magazines between 1911 and 1914 are missing from the archive so it is unclear how the "St Michael's Cadets" had morphed from the earlier organised parish youth activities. It seems that in any event, at outbreak of war all privately supported uniformed youth "brigades" were brought under the control of the War Office, becoming Cadet Battalions associated with existing Regiments (but not financed by the government).  While members of London Church Lads units were usually recruited to 16th Battalion KRRC, St Michael's Cadets became a Company of 4th Territorial Cadet Battalion, Middlesex Regiment, members of which, when eventually called to fight, served in various regiments.  The Vicar Jacob Cartmel-Robinson was much involved with the Cadet Battalion, attending its summer camps, and was appointed Chaplain of it, eventually with the honorary rank of Lieutenant Colonel. It was entirely supported by voluntary funding through local parishes. Training for the 1st and 3rd Companies of the battalion took place at St Michael's Parish Hall, and at Ravenscourt Park, where there were occasional "drumhead" religious services for the whole Cadet Battalion.
St Michael's Company will mostly have worshipped at the church's Mission Hall (q.v.)
Their Fallen are:
Allison Bernard BARKER
Charles William CARDER
John Lawrie CRAIG.*
Stanley Leonard GOLDSMITH
George Frederick HALL
Henry George HALL
Alfred Lewis KING.*
Francis Benjamin KINGSTON
Alfred KINGSTON
Sidney LEEDER.*
Arthur Leslie ROW
Norman Denis ROW
William STEELE *
Henry Edward WYATT *
* Also on main parish memorial