THE SINKING OF HMAT WARILDA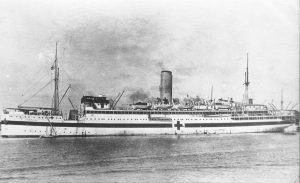 HMAT Warilda (His Majesty's Australian Transport) was a 7713-ton vessel, built by William Beardmore and Company in Glasgow as the SS Warilda for the Adelaide Steamship Company.  She was designed for the East-West Australian coastal service, but following the start of the First World War, she was converted into a troopship and later, in 1916, re-converted into a hospital ship.  She spent a few months stationed in the Mediterranean before being put to work transporting patients across the English Channel. Between late 1916 and August 1918 she made over 180 trips from Le Havre to Southampton, carrying approximately 80,000 patients in all.
On 3 August 1918, she was transporting over 600 wounded soldiers from Le Havre to Southampton, together with crew and medical personnel, a total of 801 persons.  It was a trip that they had been well-used to, having made it some 180 times already.  Her white superstructure and large red crosses were intended to give her the protection of the International Committee of the Red Cross but as with a number of other hospital ships, such as the Centaur torpedoed during the war, Germany claimed the ships were also carrying arms.
Chief Controller Violet Long had taken over a contingent of staff to France to work with the American Expeditionary Forces and to gather information for a report to her sister on how the QMAAC's service with the Allied forces was progressing. With her work completed, she managed to get a berth back to England on board Warilda with her orderlies.  The night was very dark, but the sea was smooth and visibility was about half a mile, so there could have been little difficulty in recognising that she was a hospital ship.  At 01.35 a.m. Hans Kükenthal in command of  the German U-boat UC-49 fired a single torpedo at the hospital ship.  He had given no warning. The torpedo hit the ship aft on the starboard quarter, disabling the Warilda's starboard propeller; but the port engine could not be shut down because the engine room had been flooded, and the steering gear blown away, so the ship continued moving in a circle at about 15 knots, almost full speed. The escort ships tried to take it in tow, but failed. It was a situation that spelt catastrophe for launching lifeboats.  Characteristically, Violet was the last woman to leave the ship, having made sure the two QMAAC in her care were safely off.  As Violet boarded the lifeboat it lurched and capsized and  she fell into the sea.  Violet was badly injured and trapped by ropes from the ship under the water line.  Despite the best efforts of those who came to her aid, she could not be saved and her body could not be recovered.  The ship sank after about two hours.  Over 100 of the wounded, including many those in the "Eye Ward" trapped in one of the lower decks due to the collapse of the main companionways.  A number of Hospital ships had been thus destroyed during the war, a fact much used for allied propaganda (see poster below).
Two eye-witness reports vividly describe the events:
1.  Sister Daisy Ellen Dobbs, Territorial Force Nursing Service:
"When we arrived on board we found out that two V.A.Ds were making their way home from France, and Mrs Long, Commander of the W.A.A.Cs and her orderly. We consisted of two sisters of the T.F.N.S. and myself, making a number of seven altogether. After dinner we went to see the wounded officers and men to help them talk, oh… What an interesting time we had, the thrilling adventures which made us glow with admiration and filled us with a longing to do more for these men who willingly gave their lives for us. How time flies, we helped fix life belts until the signal for "lights out" made us seek our cabin…
"We were awakened by two terrible crashes and we felt the ship vibrating violently, the sound of running feet, and someone opened our cabin door and said, "To your boat at once sisters, we have been torpedoed" …
"… we made our way to our boat which had been pointed out to us the previous evening. It was so dark that we could not see, only felt some hands passing us along, while the wounded men who could help them-selves lined ready to get into their boats, the stretcher cases were in the hands of the Medical Officers and the orderlies under their supervision did splendid work … 
"We were warned that a number of depth charges were to be sounded, the shock was severe, but we consoled ourselves thinking that we had sunk the Hun. We stopped again to take on board some more survivors, and to our delight we found our friends and listened to their terrible experiences.  We were sorry to hear that our friend Mrs Long had been drowned trying to jump from the "Warilda" into the small boat and falling between, became entangled in the ropes, every effort was made to release her but when the ropes she must have collapsed and was drawn under by the suction."
2.  Ms. Charlotte Trowell, QMAAC
"I was acting as orderly to Mrs Long.  There was no warning of impending disaster when I retired to my bunk at a quarter to twelve.  Mrs Long came to my bunk just before retiring herself and enquired 'Are you comfy?' and gave me some chocolates. 
"When the torpedo struck the vessel I was thrown out of my bunk.  I hurried on deck, and just as I got up there the stairway was blown up. There was no panic.  Those wounded boys, although dying, were splendid.  I was put into a boat filled with wounded, but as the vessel sank our boat was not level.  A davit rope was cut, but the boat capsized and we were thrown into the water.  I clung to a rope and a wounded American Officer and an Australian pulled me into another boat.
"I shall never forget the end of Mrs Long, who had been so kind to me.  She clung to the boat into which I had been dragged, and I caught hold of her by the hair.  She exclaimed 'Oh, save me.  My feet are fastened.  I have lost a foot.'  Her feet had become entangled in some rope.  Strenuous efforts succeeded in freeing her limbs, and a sailor tried hard to get her into the boat, but she collapsed suddenly, fell back, and was drowned". 
U C II -49 had been commissioned in Keil at the end of 1916.  In its career it undertook 13 patrols in which it sank 25 ships and severely damaged two others comprising a total of nearly 59,000 tons.  It was finally depth charged by HMS Possum off Start Point on 8th. August 1918 and sank, with all 31 hands killed.