Cpl. ARTHUR ROWLETT GILL
Missing presumed Killed 7 October 1916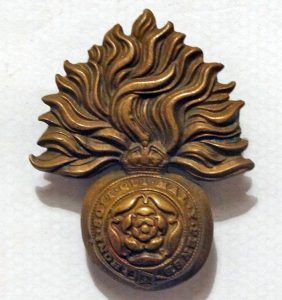 Francis (Frank) Matthew Gill married Katherine Louisa Rowlett in Bath, Somerset in 1876.  Their four children, as their father Frank,  were born in Bath.   All boys, they were Charles Francis (1878), Edward Louis (1879), Ernest William (1882) and Arthur Rowlett (1883).  Sometime after Arthur's birth, Frank, an Advertising manager, moved his family to Fulham and were living at 99 Iffley Road, and it was whilst living there that Katherine Louisa died in1889, aged 41.
During the 1890s, Frank and his boys moved to Bedford Park, and lived at 54 Bath Road.  There, at the 1911 Census were Frank Gill, a widower aged 61, Advertising Manager, Charles, age 33, a Motor manufacturer's Clerk, Edward (32) a journalist, Ernest (29), an Insurance Clerk.  At the age of 28, Arthur Rowlett was Merchant's Clerk working for the Quaker Oats Company.  Living with the family since the death of her sister was Mary Rowlett (67), Frank's sister-in-law, with her unmarried daughter Alice Kathleen (38), a nurse.
In 1914, Charles Francis married Emily Oldaker in West Ham, and in 1915, Edward Louis married Florence Kate Gascoyne in Brentford.
It was not until late 1915 that any of the Gill boys enlisted into the armed forces.  It is not clear whether or not Charles or Edward ever did serve, as at their ages they probably escaped conscription when it was introduced in 1916.  Ernest and Arthur volunteered for the duration of the War at or about the same time.  In Ernest's case it was on 16 November 1915.  Both brothers were appointed to the Royal Fusiliers, and from 9 August 1916 Ernest, and probably Arthur were serving in France with the B.E.F.
Arthur was in the 8th. Battalion, Royal Fusiliers, and rose to rank of Corporal.
As part of the 36th Brigade, 12th. Division, the Battalion, in the Battle of the Somme, was involved in the difficult and costly attacks at Ovillers on 7/8 July.  They were then involved at the assaults at Pozieres, where Australian divisions had been fiercely fighting since 21st July.  They made a successful minor attack west of the village on 3rd August, the Brigade securing German supply trenches to the left flank of the main Australian assaults.  There is no doubt that Arthur saw extensive front line action.
The 8th Royal Fusiliers were relieved by 14 August, though the area of Pozieres and Mouquet Farm was not finally secured until 26th September.  By that time, the 12th Division had been moved to assist the slow advance eastwards by the more successful Divisions further south.  There, the Front had been advancing as far as Flers and Lesboeufs.  The 12th Division had been assembled and positioned with 20thDivision south east of Gueudecourt, for an attack on German trenches, delayed by heavy rain until 7th October.  The 36th Brigade, on the left, including the 8th and 9th Royal Fusiliers, found itself advancing against a heavy barrage, and raking machine gun fire; both Battalions were severely cut down by fire.  The few Fusiliers who reached the objective trench, Bayonet Trench, were not seen again.  It is clear that it was in this action that Arthur Gill was killed; he has no known grave, and is commemorated on the Thiepval Memorial, Plot: Pier and Face 8C, 9A and 16A
Around the time that Arthur lost his life, his brother Ernest was involved in an incident that led him to be brought before a Military Court in France.  On 5 January 1917 he was tried and convicted for "lacking military discipline whilst on active service, which resulted in carelessly wounding himself in the right foot.  He was sentenced to 28 days Field Punishment No 2.  He would be brought out of his cell, shackled to a secure fence or similar for two hours each day of his sentence.  On 18 March 1917 Ernest was returned to England and was admitted to Weston Heights Military Hospital, Dover.  He was released from hospital in June 1917 and on 16 August was discharged from the Army as he was no longer fit for active service.
Ernest continued to live in Bedford Park after the War and was living in Flanders Mansions at the time of his marriage to Thyrza Minnie Needham in 1937.  He died in Kent in 1968, aged 83.
Charles and Emily had one child: Gertrude Gill who died, unmarried, in 1977.  Edward and Florence Gill had two children: Joan b. 1916. She married Clarence Smith and had 4 children, 3 boys and a girl.  Joan died in 2007.  Her brother was Peter Gill (1921-1943).
Ref.: Cuttell, B. –"148 Days on the Somme" pp.185-6