Capt. Arthur Bryan WHITE
Missing presumed Killed 16 August 1917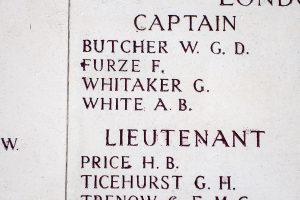 In 1901, Arthur Bryan White was a 12 year-old schoolboy, the second son of William White, a cloth merchant, born in Barnsbury, North London, and his wife Fanny. His sister, Noel, was the eldest sibling, aged 16, and he had an elder brother, Laurence Carol, aged 14. The family lived at 26 Queen Anne's Gardens, Bedford Park. Arthur had been baptised at St Mary's Church, Stamford Brook on 17 February 1889. By 1911, the family had moved to Birdhurt Rise in Croydon. At age 22, Arthur had become a Chartered Accountant. He then spent a short period in South America – he is noted as an in-coming passenger from Buenos Aires to Southampton on SS Asturias on 4 April 1914.
Arthur Bryan White was commissioned Second Lieutenant in the 5th (City of London) battalion, London Regiment (London Rifle Brigade) on 6 February 1915. He had previously been Serjeant
No. 8218, in the same battalion, so he will have volunteered in this Territorial unit at or before the onset of the War. He had seen active service from November 1914, as his medal card confirms his entitlement to the 1914 Star as well as the War and Victory medals. He was promoted to full Lieutenant on 9 August 1915.
The London Rifle Brigade (LRB) crossed to France in November 1914, joining the 11th Brigade, 4th Division, serving with them in the trenches at Ploegsteert, or 'Plugstreet'. Men from the battalion took part in the Christmas Truce in December 1914. They took part in Second Ypres and in April-May 1915 they lost 16 officers and 392 men. Due to these losses they then formed a composite battalion with other similarly depleted London units until August 1915 when, back up to strength, they became part of the 3rd Division. During this interim period, 2/Lt A B White and a number of other officers was attached to a "gas brigade" in another division that was to be involved in the battle of Loos. The LRB served with the 3rd Division until the formation of the 56th (London) Division in March 1916 when they joined the 169th Brigade. They lost heavily at Gommecourt on 1st July 1916, where Lt. White lost his battalion colleague Lt. Ivor Pogose, (q.v.), and then fought again at Leuze Wood and Combles. In 1917 they were in the Battle of Arras and Third Ypres. It would have been during Third Ypres that Arthur White would have lost his life, probably during the attack on Glencorse Wood (see map attached) where the battalion came against stiff opposition from enemy machine guns sited in Inverness Copse before suffering heavily at the hands of the German counterattack. The War Diary (attached) suggests that some men from A Company had succeeded in achieving the battalion objective, which had been the edge of the racecourse situated in Polygon Wood, according to aerial observer reports, and digging in new positions, but were never seen again. It is very possible that Arthur may have been among them. This occurred on 16 August, and had been a prelude to the fierce fighting for Polygon Wood that followed a month later.
Captain Arthur Bryan White was declared missing after this action. His body was never recovered.  He is commemorated on the great Menin Gate Memorial to the Missing at Ypres, Panel 52.