Capt Oswald Sydney ROYAL-DAWSON
Died of Wounds 25 November 1917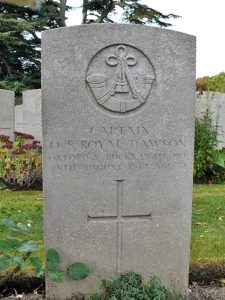 Oswald Sydney was born on 16 Feb. 1885 in Ealing, second child of Charles Royal-Dawson of Eastern Wynaad, Madras and 10 Grove Park, Ealing, and of Mrs Edith Rosalie Royal-Dawson, later Royal-Light, of Trivandrum, Travancore. Charles was a Coffee Planter, who at his death on 16 September 1903 was living at 49 Fairholme Road, West Kensington.
Oswald had elder sisters, Ida Rosalie, born 1884, and Edith Violet.  Many of their children's births were registered at Brentford Registry Office so it is possible the Dawsons might have lived in Bedford Park in the late 1880s.  The only "Royal-Dawson" found in Bedford Park is Miss Ida Rosalie Royal-Dawson, who may have been the elder sister of Oswald, born c.1884.  She was unmarried in 1945 when she lived at 31 Marlborough Crescent. She was a 17-year-old visitor at 31 Charleville Road, Fulham, when her mother and Oswald, Fred Warren and Edith Violet were living at 7 Perham Road Fulham at the 1901 Census.  The other resident in Marlborough Crescent in 1945 was a Miss Pamela ML Brett.
Oswald's younger brother was F Warren Harry Royal-Dawson, (1888-1968), born in Ealing, London, and educated at St Pauls School. He was Honorary Librarian to the Corporation of Lloyds from 1927 to 1948. Dawson wrote papers and books on archaeology, Egyptology, the history of medicine and science, and prepared catalogues of a number of important manuscript collections, including the Huxley papers for Imperial College, and the J E Smith papers for the Linnean Society.
Oswald Sydney was educated at St Paul's School, and was in the school OTC for 3 years until 1903, attaining cadet rank of Sergeant.  He then took a scholarship at Corpus Christi College, Oxford, where he graduated with honours in Classics and Philosophy. He was a fluent French speaker but described himself as "an indifferent rider".  He was the first editor of the Oxford and Cambridge Review (later the British Review).  He took up journalism and at one time was on the staff of the Morning Post and Daily News.  In 1911 he was living at 9 Jessel Mansions, Queens Club Gardens, West Kensington, described as a journalist.  He later became a successful playwright and author. He was the manager of the Glasgow Repertory Theatre in 1914 and was literary adviser to Mr (later Sir) John Martin-Harvey, a celebrated stage actor.
In January 1913, he married Margaret, only daughter of Peter Ritchie of Glasgow. His only son, Basil Ivor Royal-Dawson was born on 2 April 1914.
At the outbreak of war Oswald obtained a commission on 5 November 1914 as 2nd. Lieutenant in the 7thBattalion of the Oxford & Bucks Light Infantry and was promoted Captain on 11 June 1915.  He served in England and in Salonika where he sustained wounds in action and admitted to 29 General Hospital there 17-20 Sept 1916.  He was invalided to Malta in December 1916 with Paratyphoid fever and to England on 7 January 1917. He served for some months at home before being re-posted to the 5thBattalion, joining it in France on 9 June 1917.  Several battalions of the Ox and Bucks saw further service in many of the subsidiary battles during the Battle of Passchendaele (also known as Third Ypres) that took place between 31 July and 6 November.
He was mortally wounded while leading his Company in Flanders in the action on 24th. August – shell wounds to the right thigh and gas poisoning from a lethal gas shell.  He died at No 17 Casualty Clearing Station at Lijssenthoek the next day, 25 Aug. 1917.  He was buried at Lijssenthoek Military Cemetery, Poperinge, West Vlaaderen, Belgium, Plot XVI-A-19.   His last known address in England was 80 Church Street, Chelsea, London.
Margaret (Rita) after the war initially lived at 80 Church Street, Chelsea – but her husband's effects were sent to Mrs Ritchie (possibly at her mother"s house) at 48 Redcliffe Road, Fulham Road, SW.  She duly received Oswald's pay and death gratuity of £148/18/8, and his British War and Victory medals.
Margaret subsequently remarried in 1929 becoming Margaret V Leonard and was at 32 Gordon Place W8 on 4 October 1932 when seeking assistance with school fees for Basil. He attended Rossall School.  He served in World War Two as a Second Lieutenant, and died in London in 1979