Able Seaman George GOULD
Died 1917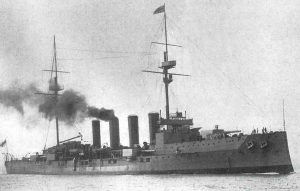 George Gould was born on 10 February 1884 and baptised by Revd. Alfred Wilson at St Michael and All Angels Church on 9 March of that year.  His father, George Stephen Gould, was born in Chiswick in 1856 and had married his wife Jane in 1880.  In 1881, they lived with his widowed mother Jane Gould at Castle Place.   He was a labourer.   Their eldest daughter, Annie, was born in 1882 and was also baptised at St Michael's.   At the Census of 1891 they had moved to 59 Windmill Road.  By then, two further children had been born:  Jane (aged 3) and Jack (1).
George does not appear in the Census of 1901.  His family however was still at 59 Windmill Road, so at the age of 17 he may well have obtained employment elsewhere. On 17 September 1901 he appears to have joined the Royal Navy though the Service record incorrectly gives his date of birth as 18 March 1885.  He seems previously to have been employed as a Kitchen Boy. The date of birth is likely to have been a clerical error.  Other official records have failed to yield any other George Gould from Chiswick as having been born on that date, nor died during the war.  On 2 April 1911, the Census return confirms that George was an Able Seaman, born Chiswick aboard HMS Black Prince, aged 26.
The Service record is otherwise relatively detailed.  He was employed as "Boy 2nd Class" between 17 September 1901 until 17 July 1982, and "Boy 1st Class" until becoming an "Ordinary Seaman" in HMS Agincourt on 18 March 1903, promoted to Able Seaman on 1 June 1904.  Many of his subsequent transfers were to shore-based establishments, but he served at sea in HMS Jupiter in the Channel Fleet until 1908, and in HMS Black Prince between 1910 and 1912.  After April 1912 he served ashore in various establishments, mainly at Royal Naval Barracks, Chatham.  Black Prince was sunk during the Battle of Jutland in 1916.
George did not have any active service during the War.  His Service record indicates that his conduct had been satisfactory throughout his service years.  He became ill with a "Disease of the Brain" November 1914, and was invalided from the service on 6 January 1915.  He was awarded a long service pension, but will have died before the end of the War, probably in 1917.
His name is recorded on the St Michael and All Angels memorial Plaque, together with his brothers Jack (John) Gould, six years his junior, and Alfred Gould, 11 years younger.
Because he saw no Great War service, he is not officially recognised as War Dead.