PRIVATE FRANK MARTIN PALLANT
Killed in Action 26 October 1917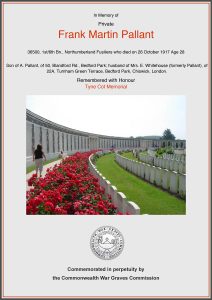 Frank was born 20 April 1888 and baptised at St Alban's Church Acton Green by Rev G Henley Manbey on 1 July 1888. At that time the family lived at 33 The Avenue, Bedford Park. His father was James Pallant, a builder aged 32, from Suffolk and his mother was Agnes (also aged 32). He had an elder brother, James F, aged 5 and a sister, Ellen H, aged 2 . At the Census of 1891, they had moved to 32 Priory Road (now Avenue), and his father then was occupied as a House Painter. Ten years later, the Pallants had moved again, but still in Bedford Park, at 49 Woodstock Road. The eldest son James, at 17, now worked in his father's house decorating business. By then there were two further sons, John W born in 1901, and Wilfred, born 1904.
At the 1911 census, 2 April 1911, at 49 Woodstock Road was Frank's mother, Agnes Pallant (52), and sisters Ellen Hagar Pallant (24) an assistant at a confectioners, and Wilfred Robert (17), a plumber.
Frank was married with Edith Alice Staines, 22, from 336 Blandford Road, on 22 April 1911 by Curate John A Grant at St Michael and All Angels. He then was aged 23 living at 49 Woodstock Road, and a Builder's foreman. His father had died before the marriage. The wedding was witnessed by Frank's widowed mother, and his elder brother, Frank F, who succeeded in the business. Edith was the daughter of Arthur Staines, a coachman. The couple's daughter, Eileen E, was born at the end of 1912.
It seems that Frank, after his marriage, had set up on business on his own as Builder and Decorator, Sanitary Engineer, Plumber and Glazier from his address at 22A Turnham Green Terrace and at Southfield Road. He employed about 8 – 10 workers. His elder brother James was also in business in Chiswick High Road. When the war started in August 1914 he did not volunteer in the light of his business responsibilities and his young family. When conscription was introduced in 1916, he undertook examination at Hounslow and was passed as fit for General Service, but applied to the local Tribunal for exemption on the same original grounds. He was granted two months conditional exemption from the end of June to have time to settle his business affairs, provided he joined the local Volunteer Training Corps. He sought further exemption at the beginning of September – he had reduced his workers to 5, but had been unable to find a suitable person to carry on his reduced business in his absence. He stated that he had two brothers already at the Front, one of whom had been in business with him. The Tribunal declined to grant further exemption, indicating that his small business was of no national importance and there would be no family hardship. On appeal, he was granted a final two months of further exemption "to make arrangements". No further renewal was to be allowed without leave of the Appeal Tribunal.
Accordingly, Frank attested in December 1916 and became a Private in the 6th Battalion, Northumberland Fusiliers. After basic training, he would have arrived at the Western Front no earlier than May 1917.
The Battalion had first landed in France in April 1915 where the formation became part of 149th Brigade of the 50th Division and engaged in various actions on the Western Front. In 1917 it had
been involved at the First Battle of the Scarpe, the Capture of Wancourt Ridge, the Second Battle of the Scarpe, and then in Belgium at the Second Battle of Passchendaele.
The Battalion's War Diary describes the situation at the Front Line before Schaap-Balie, just NW of the village of Passchendaele on 26 October 1917:
"26th October. 5.40 a.m. 149th Infy. Brigade attacked enemy positions in the neighbourhood of SCHAAP-BAILIE astride the STADEN RAILWAY. 6th Battalion in support successfully assisted 149th Bde. sig. officer to maintain communications. During the attack and later during the whole day communication ws maintained by visual and (except for a few minutes) by wire with the Headquarters of the three assaulting battalions. Weather conditions prevented the attacking troops from keeping up with the barrage, and in addition unexpected obstacles (wire and concrete huts) held up the greater part of the attack, a few hundred yards from the jumping off tapes. The 6th Battn sent up D Coy under Capt. KM DRUMMOND to support the left Bn. (7th NF) and one platoon of A Coy under Lieut EL BELL to assist centre Bn (5th NF). By nightfall all attacking Battalions had withdrawn to their original jumping off line. During the 26th the Bn suffered about 20 casualties from shell fire. The 149th Inf Bde (less 6th NF) was received by two battalions of the 150th Inf Bde during the night.
27th October. 6th Bn. remained in SHELL HOLES in neighbourhood of PASCAL FARM. Cant JM MACKENZIE RAMC assisted the Div in organising the evacuation of the wounded. The battalion suffered about 30 further casualties from shell fire."
It is probable that Pte. Frank Pallant would have been lost either among the front-line reinforcements. His body was never recovered. He is therefore remembered on the Memorial to those with no known grave at the Tyne Cot Cemetery.
His widow, who subsequently re-married to become Mrs E Whitehouse, will have received his medals, the War Medal and Victory Medal. His daughter Eileen Ellen married locally to Ernest G S Colley in 1939.
Download a zip file of these images