2/Lieut. Ivor POGOSE
Died of Wounds 2 July 1916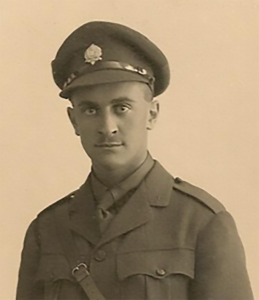 The Pogose Family had only a three-year connection with Bedford Park, after which they moved to an address in Kew, and, by 1914, South London.  Importantly, other than on the Bedford Park memorial, Ivor is commemorated on the War memorial at St Michael's Church, Elmwood Road, where it is clear he owed his allegiance, and where he had been confirmed.  The following account owes much to the extensive research material provided by the "Heroes of Chiswick" project undertaken by St Michael's Church, supported by the Heritage Lottery Fund.
Ivor Reginald was the eldest son of Nicholas Marcar Pogose and Margaret, nee Park.  They had married in Steyning, Sussex in  1883.  Nicholas had been born in India  where his father was a landowner.  After marriage the couple had briefly returned to India, where their eldest daughter, Muriel, was born, but then until the turn of the century the family had lived in Brighton, where Esme had been born in 1888, Ivor in 1892 and Vivienne in 1897.  In 1901 the family lived in Fulham, where Nicholas was described as a "General Agent", living on his own account.  A further child, Viola, was born in 1900.  There may have been recurrent financial difficulties precipitating frequent changes of address thereafter – the family came to live at 68 Woodstock Road in about  1905.  There, Ivor's mother Margaret unfortunately died in 1907.  Nicholas re-married in 1909 to May Quentin Gould when the family moved to Kew.  Two more sons, Aubrey, and Philip, were born.
Ivor was educated at Arlington College, Chiswick from 1906 to 1911.  There he met his great friend Frederick George Carrington Howard – they were both confirmed at St Michael's Elmwood Road – and subsequently  communicated regularly there.  It is interesting that both Ivor's sisters Vivienne and Viola, and half-brother Aubrey were only baptised (in Kew), in 1910.
Ivor Pogose enlisted at Westminster on 5th September 1914, giving his occupation as Railway Clerk (as was also his friend Fred Howard's occupation), and joined the 10th (S) Battn. Kings Royal Rifles. He was posted on the 9th September and made a Lance Corporal on 14th September 1914. He sought a commission in May 1915 and was given a character reference by Mr Thomas Williams, Head Master of Arlington Park College.  As a 2nd Lieutenant he served with D company, 5th Battalion London Rifle Brigade, 56th (1st London) Division being discharged from KRR to join LRB on 4th June 1915.
Gommecourt was the site of a 'supplementary' operation on the 1st of July, 1916, with two aims – to draw some German reserves from the main Somme offensive further south and also to try and eliminate a German salient, centred on Gommecourt Wood. The plan was for the 46th Division to attack to the north of the salient, and the 56th to the south. The intention was for troops from the two Divisions to meet and thus 'pinch out' the salient.
At first the men of 5th Royal Rifle Brigade met relatively little resistance from the Germans in the forward trenches, catching many in their dugouts, or as they tried to scramble out of them. D company secured Fen and Ferret and worked their way up the almost deserted communication trench Exe and turned right into Eck trench. The trenches and wire had been heavily damaged by British fire prior to the assault, but gave little shelter to the troops. D company were able to consolidate their position with wire along the side of Eck trench facing 'the maze' and the village. Unfortunately, by this time, the attack from the 46th division was effectively defeated, so the Londoners were effectively on their own.As the morning wore on, German troops in the 3rd. line trenches hidden by hedges and trees to the South East halted any further advance by the LRB, harassing them with rifle and grenade fire. In addition the enemy was intensifying its barrage and machine guns in Gommecourt Park were beginning to take their toll.   By noon, the British were in retreat, heading back across No Man's Land as best they could, but many were still trapped in the German trenches.  The LRB had to abandon Fen, and by evening They were down to about 30 men by 8.30 and decided to retreat back to the British lines, reluctantly leaving the wounded behind. The officers were the last to retreat with most of them being killed as they headed out into No Man's Land.
We do not know at what point in the day Ivor Pogose was wounded, but late on the night of 1st July Captain Wallis of the London Rifle Brigade went out into No Man's Land in search of Ivor who had been reported as lying wounded out there.  Wallis singlehandedly rescued Ivor and brought him back to the lines, but tragically Ivor died of his wounds the following day (2nd July) at the Main Dressing Station, Couin where he was buried in the British Cemetery there.
The casualty rate for the London Rifle Brigade was a horrific 71%, with 19 out of 23 officers and 569 out of 803 other ranks, being wounded, killed or missing. Only 82 wounded are listed as "returned by 23rd July"