Pte. Henry Robert SCHWABEN
Died of illness on Active Service 29 July 1915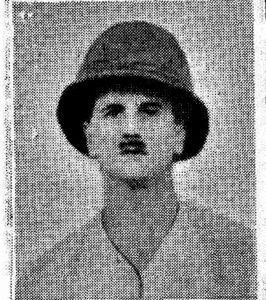 Henry Robert SCHWABEN, born in Edinburgh 17 July 1889, was the third son of Hans Walter Schwaben, who was born in Gelsenkirchen in Germany in 1858.  With his parents Hans came and settled in Britain in about 1875, initially in Scotland, where he married Helena Geraldine Jordan, from Co. Mayo.  Hans was described as an Engineer and Artist, and became a British subject.  In 1901, Henry with his elder brother Charles William were both at school in Worcesterhire, but soon after, the family moved to London and settled at 33 Fairfax Road, Bedford Park.  At the 1911 Census they were to be found there – Hans then described as a commercial traveller in the building trade.  By then, Henry had a job as an Insurance Clerk.  His father Hans died at the age of 56 in May 1914.  His widow Helena subsequently moved to 7 Fairfax Road.
 It is clear that Henry Schwaben was an active individual, attracted to outdoor military life (his maternal grandfather had served both in the Crimea and at the time of the Indian Mutiny).  He was a member of the Travellers Club.  As a teenager he was in the Kings Royal Rifle Cadets, and later joined the Royal Bucks Yeomanry for 3-4 years.
 At the outbreak of war, Henry immediately volunteered.  His service record confirms that he joined up at Stamford Brook on 7 August 1914 and joined 10th (Territorial) Battalion, Middlesex Regiment.  He is said to have been one of sixteen men selected for the Scout Section.  The battalion was sent to India in October.
In February 1915 Henry volunteered for service in the Persian Gulf and was attached to 2 Battalion, Norfolk Regiment.  The early Mesopotamian campaign against the Turks proceeded well, and units advanced from Basra towards Kut along the Euphrates, commencing at the start of April.  It was at  a small village, Asaui, near Nasaryeh, that Henry developed dysentery and died  on 29 July 1915 before experiencing battle.  He was buried there, but is commemorated at the Basra British Memorial.
An officer wrote:"I know his section officer in the Middlesex thought very highly of him, and told me he was giving me one of his best men".
 Helena Schwaben lost two of her sons in the War.  Charles Schwaben was killed in December 1917 in the Palestine Campaign.