Captain Charles Edgar Andrew WILSON MC
Died of Wounds 8 April 1918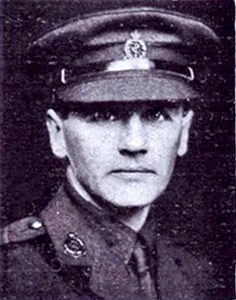 Charles Edgar Andrew was born in Hammersmith on 30 November 1877, the elder son of the Rev. Alfred Wilson, first Vicar of St Michael and All Angels Church, Bedford Park, Chiswick, London
He was first educated at Mr. Johnson's School at Ashstead, Surrey.  He became a scholar of Charterhouse from 1891, where he enjoyed the academic challenge and where his musical ability, particularly the piano, was encouraged.  Gaining a Science Leaving Exhibition, he went to Christ Church  College Oxford in 1895, and gained a Final First Class Honours in Physiology.  He joined St. Thomas's Hospital, London in 1899, qualifying as a doctor in 1902, and held house appointments at the General Hospital in Birmingham, Blackheath Cottage Hospital and at Great Ormond Street Hospital for sick children, before taking up practice in Petworth, Sussex.
On 23 April 1908, while at Blackheath he married Mary Barnes Mein at Newcastle-upon-Tyne. They lived at The North House, Petworth, Sussex, and on 27 February 1909 their only son Richard Nicholas was born.
It was in Charles' final year at St Thomas' when his family received news of the death of his 21 years old brother, Harold, at Spion Kop in the South African War.  In 1915 the family suffered further tragedy when a second brother, Lawrence was killed in Flanders.  We can imagine the family discussions that led Charles to volunteer in 1916 and to offer his medical expertise to his country at the age of 39.  Charles joined the RAMC in September 1916 as a temporary Captain, serving in Flanders and France. He spent his entire service on front line duty, first with the Northumberland Fusiliers  and later attached to the 7th. Battalion, Rifle Brigade in 41st Brigade, 14th Light Division.  He sustained  severe spinal wounds received in action near St Quentin on 28 March in a rear-guard action during the German Spring Offensive, Operation Michael.  He died on 8 April 1918 at No.1 General Hospital, Etretat – which had been the pre-war "L'Hotel de Riches Blanches", converted in 1914 to a 1000 bedded unit staffed by 65 nurses.
Captain Wilson's name is on the Charterhouse Roll of Honour, that of Christ Church College and there is are Memorial Plaques to him in at St Michael's, Bedford Park, and at All Hallows Church at Tillington near Petworth:
"To the glorious memory of my dear husband Charles Edgar Andrew Wilson B.A. M.B. BCh. Oxon who in 1916 gave up his practice in this neighbourhood to volunteer for active service and as Temp. Capt R.A.M.C. attd 7th Rifle Brigade died on April 8th 1918 from wounds received near St. Quentin on March 28th aged 41. He lies in a soldier's grave at Etretat, France.
"One who never turned his back but marched breast forwards.
Never doubted clouds would break.  Never dreamed though
right were worsted wrong would triumph.
Held we fall to rise.  Are baffled to fight better.  Sleep to Wake"
The Colonel of the Northumberland Fusiliers to which he was initially attached wrote "He was loved and admired by us all and I know that, personally, I have lost a great friend, one of the kindest and most sympathetic men I have known." The Colonel of the Rifle Brigade wrote "He is a great loss to us all, the best doctor we ever had; we all loved him."
He was recommended for the Military Cross for conspicuous courage and bravery under heavy fire, which was gazetted on 23 July 1918 as follows:
"For conspicuous gallantry and devotion to duty when, during a rearguard action, he worked untiringly in the interests of the wounded, who were all safely evacuated, in spite of having to pass over a long stretch of open ground exposed to fire.  Through all this trying time he was cool and cheerful, showing a complete disregard of personal danger."
Fortunately, Alfred, his father, was spared the knowledge of the loss of three sons.  He had died in 1908.  Charles' younger brother Laurence was killed in action in August 1915.  His widow, Mary re-married in about 1921 to another Army Captain, Joshua Brooks.  Her son Richard Nicholas became an army officer and will have served in and survived WW2.