Private Stanley Leonard GOLDSMITH
Killed in Action 12 October 1918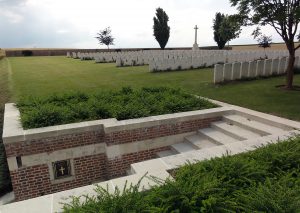 Stanley Leonard Goldsmith's name is one that appears solely on the plaque in St Michael's dedicated to the Fallen who had joined the 4th Cadet Battalion of the Middlesex Regiment, two companies of which was based and trained in the Parish Hall.  Certainly it is unlikely that he would have regularly worshipped at St Michaels as he lived with his family initially at  208 Chiswick High Road, and later at 30 Sutton Court Road.  He may well have attended youth services in the Parish's Mission Hall, near the High Road, as the Cadets had their Sunday services there. 
Stanley had been born  in late 1899 in Oldham, Lancashire.  His father was also named Stanley Leonard Goldsmith and had been born in Cobham, Surrey in about 1874.  In the 1901 Census, in  Newcastle upon Tyne, he was described as a Manager of a Ladies' Mantle Manufacturers.  His wife was Hannah Maria, nee Ruxton from Aberdeen, born in 1878.  They had married in 1898.  In 1901 the one year old Stanley had an elder sister, Hannah Elizabeth Adelaide , born in Aberdeen in 1899.  By 1911, the family had probably just moved to Chiswick.  Stanley (senior) now was working on his own account as a Ladies' Mantle Dealer in the High Road.  The family had increased: Norah had been born in Newcastle in 1902, Patricia, born in Belfast in 1905, and William, aged 1, born in Fulham.  There had been two other children who had died very young.  Other than William, all the children were at school.
Stanley (junior) was only 14 when war was declared.  We do not know when he began his Cadet service, but he must have drilled and trained regularly with several others of St Michael's Parish Dead, such as Charles Carder, and Alfred Kingston who were about the same age.  They would certainly would all have attended the tea parties for the Cadets arranged by Lieut. Henry Wyatt, who as a parishioner had volunteered to serve as one of the Company's training officers in addition to his own active war service.
It must have been in early 1918 that Stanley Leonard Goldsmith, now aged 18, would have been conscripted into 4th Battalion, Middlesex Regiment as a Private.  Thus it is unlikely that he would have seen front-line action before about May or June in the last year of the War, probably later.  His service number was G/54235, a very late recruit.  Unfortunately his Medal Card does not give the date of his first entry to France.  At that stage of the War, the 4th Middlesex Battalion was in the 63rd. Brigade, 37th Division and had participated at the Defence of Amiens and then the Allies' advance and German withdrawal to the Hindenburg Line and beyond.  It may well be that the Final 100 Days Campaign will have been Stanley's first and only first line tour of duty.   He will have participated in the capture of Cambrai, and after 10 October, the "Pursuit to the Selle" (see the War diary transcript relating to the Attack around and beyond Caudry).  Briastre was captured on 10 October 1918, Belle Vue Farm on 20 October, Romeries itself and Beaudignies on 23 October and Englefontaine on 26 October. The Battle of the Sambre, the last great action of the war, carried the front forward into Belgium and ended with the Armistice. 
Private Stanley Leonard Goldsmith will have been one of the 19 Other Ranks who was killed in the Brigade attack on 12 October.  He will have been initially buried at Briastre-Solesmes Road Military Cemetery, Briastre along with 6 further 4th Battalion compatriots including two of his officers, but after the War these graves were concentrated at Romeries Communal Cemetery Extension, Plot III.C.8.