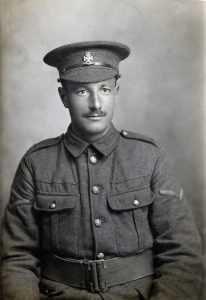 Cpl. Edwin Felix HAINES
Killed in Action 16 June 1915
The group photograph from about 1895 shows the family of Edwin Haines, a retired farmer from Kent. I 1873, he married Emilie Lehman, from Switzerland. Their eight children survived into adulthood. Of the six daughters, only Emilie married and had children. Other sisters were Margaret, Gertrude, Alice, Elizabeth and Mildred. Young Edwin had an elder brother, Frederick, who went into the Merchant Navy. The family photographs in the late 1890s show a reasonably prosperous rural family.
EDWIN FELIX (Ted) was born on 6 January 1885 at Horsmonden on the Weald. In 1901 the family lived near Tonbridge, but by then the 16 year old Edwin was living and working in London. He was a clerk in a firm of wholesale drapers in the City, in an area called Glasshouse Yard, Aldersgate. He lodged with many other young apprentices in a large hostel in Charterhouse Square. By 1911, the now retired Edwin Sr. and his family was well established at their home at 132 Rusthall Avenue at the edge of Bedford Park. "Ted" was living at Rusthall Avenue, described as a Commercial Clerk in a firm of wholesale drapers
It may have been after the war had started when the family moved again to 18 Fairfax Road, so it is doubtful whether Ted ever lived within the Parish of Bedford Park. Emilie and her husband James Williams eventually went to Alwyn Avenue, where her granddaughter lived until recently.
EDWIN volunteered at the outset of the war and joined the Wiltshire Regiment. The 1st Battalion had seen action in France at an early stage, but after training Edwin will have joined his battalion in Flanders only at the end of 1914 as a draft of reinforcements, it having been decimated by fighting in the First Battle of Ypres. Edwin had gained the rank of Corporal.
After a terrible winter under daily artillery, mortar and sniper fire, the unit moved during the spring to the south west, at the front at Elzenwelle, where conditions were better, so Ted was able to write his last letter home, describing the lateness of the spring flowers etc., only referring to the War by reporting the issue of anti-gas apparatus. At the beginning of June, they moved to the line near Hooge, near the Menin Road in Belgium.
On 16 June the whole Battalion was involved in a determined attack on Bellewaerde Ridge. It was ultimately unsuccessful due to a shortage of munitions. Ted would have been killed during retirement from the German trenches in the open, in a strong counter-attack. The Division as a whole lost 140 Officers and 3391 men.
Edwin Haines is commemorated at the memorial for those with no known grave, at the Menin Gate, Ypres.
The family received and retained Edwin's medals, the 1914/15 Star, War Medal and Victory Medal, together with his Princess Mary's 1914 Christmas gift, containing comforts such as cigrettes, tobacco and chocolate.