Corporal Sidney Lionel LEEDER
Died of Wounds 28 October 1918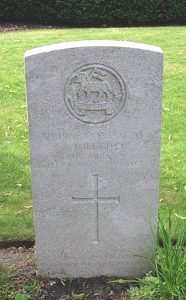 Sidney Lionel Leeder was born on 3 September 1898 in Chiswick, the third generation of a family that had been in Chiswick or Acton since at least 1871.  His father was Herbert Sidney Leeder, a House Decorator, born in 1871, and his mother Lillian ("Lily") who lived at 2 Merton Avenue.  At his baptism at Christ Church, Turnham Green on 18th March 1906 he was aged 7.  It was a great family affair – his younger brother, Arthur Edward, at age 4, was baptised at the same time, as was Doris Irene, his cousin, the daughter of his uncle Albert Edward Leeder, a Carpenter, who lived with his wife Caroline Jane further down the road at 39 Merton Avenue.  Doris had been born on 13 January 1906.
Herbert Sidney and Albert Edward were children of John Leeder, who in 1871 was living with his wife Caroline at 4 Camden Terrace (now demolished), close to Chiswick High Road.  He was an Undertaker.  Herbert was the second son, born in 1871.  An elder brother Leonard Lionel, born 1866, was in 1871 noted to be "paralysed",  and presumably died young.  Albert was much younger, born in 1881. It seems likely that Herbert had named his son after his dead brother.
In 1911, Herbert Sidney was still at 2 Merton Avenue.  In the house were Herbert (now a House Painter) and Lily, the eldest daughter, Caroline (named after Herbert's mother) aged 15, Sidney and Arthur, both at school, and a young daughter, May, aged 2.  John Leeder, 71,  now lived with them, together with his son from a late second marriage, Wallace, aged 10.  His brother Albert (now a furniture salesman) was still at no.39, with wife Caroline Jane, Doris (5) and a new baby, Vera, aged 9 months.
Sidney Lionel Leeder would have become 18 only in September 1916 and therefore must have been conscripted later in the War.  He joined 11th Battalion, The Queen's (Royal West Surrey) Regiment as Private G/ 21496 and allocated to "A" Company.  In 1917, the Battalion served at the Battle of Messines, the Battle of Pilkem Ridge, the Battle of the Menin Road, and other operations on the Flanders coast.  In November it was deployed to Italy to strengthen the Italian resistance after a recent disaster at Caporetto and positioned along the River Piave.  In March 1918  it returned to France, in 123 Brigade, 41st. Division serving at the Battle of St Quentin, the Battle of Bapaume, the Battle of Arras, and the Battles of the Lys.   In the Autumn it fought at the Advance in Flanders, the Battle of Ypres, the Battle of Courtrai, and the action of Ooteghem.
We do not know in which of the last battles Sidney sustained his fatal injuries.  It could have been at the Action at Ooteghem, where his younger Parish compatriot, Pte Charles William Carder was killed.  He had served in "D" Company so it is unlikely that they would have met together.  It would more probably have been at the Battle for Courtrai, as Sidney died in Poperinghe.  Four Allied casualty clearing stations were located at Lijssenthoek by 1917.  Together, they eventually accommodated some 4,000 hospital beds and formed the biggest evacuation hospital in the Ypres Salient.
Private Sidney Lionel Leeder is buried at Lijssenhoek Military Cemetery at Plot XXXV.B.5.  he was aged 21, and un-married.  His parents arranged for his headstone to be inscribed:
"Here rests a warrior who gave his life for honour and freedom"