PTE EDWIN THOMAS ADAMS
Died on Active Service 28 October 1918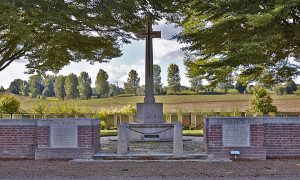 Edwin Thomas ("Tom") Adams was the elder brother of Frank Adams.  Edwin was born in 1886.  his father was also  Edwin Adams who for some time towards the end of the War lived at 21 Flanders Mansions, Bedford Park.  His mother was Mary Ann Adams.  It is clear that the family had previously lived in Dresden (Longton), a district of Stoke on Trent, where the father worked as a retail hatter. At the 1901 Census Edwin Thomas (15) was  working as a railway clerk in Stoke and a sister, Hilda Muriel (14) and Frank (11), both at school.  By 1911, the family other than Frank still lived in Stoke; Hilda was now a school teacher.  Tom still worked as a railway clerk.
Both Frank and Edwin Tom's names appear on St. Michael' Parish memorial, and the parents, as parishioners, had clearly requested that his sons' names should appear on the commemorative plaque.  There seems no evidence that either of the two brothers ever lived in Bedford Park.  It seems that Edwin Senior will have died by 1924, but his widow Mary Ann, and the unmarried Hilda Muriel remained at Flanders Road until the early 1930s.
On 12 September 1912, Tom married Mary Maud Alice Pitts at Dresden Parish Church, Stoke.  Her family lived at Meir, Stoke on Trent and her father, James Pitt was a draper.  Before her marriage she worked in her father's business.  It seems that after his marriage, Edwin became employed by his father-in-law.  On 26 May 1917, Tom and Maud had their only child, Frank Douglas, who was born at the Pitts' family home.  Tom would have been aware of his younger brother's death that February, so it is likely that his son was named in his memory.
Edwin Thomas Adams enlisted only on 24 June 1917 at the age of 32 and called for service on 8 August.  As a draper, he expressed his preference for service in  the Army Ordnance Corps, but the next day , according to his service record, he was appointed to the Royal Army Medical Corps, Private 123921.  At his first medical examination on entry he was only 5ft 4in in height, with poor physique.  After some training he was posted as a Nurse to No. 11 Company and thence to 6 Stationary Hospital, Frevent, near Arras in March 1918, moving to Fillievres in September.  Sadly, he contracted Pneumonia and died in the hospital in which he had worked on 28 October 1918.  It will be seen that no less than 4 Colleagues at the hospital died around the same time – presumably because of the 1918 Influenza Pandemic.
Private Edwin Thomas Adams was buried at Fillievres British Cemetery, Row A.42.  Maud remained in Stoke on Trent with her son with her parents.  She never re-married.  When she died, in 1964, her son, Frank Douglas, who clearly succeeded to the drapery business, was left £32,496 in her will.  Thus Edwin Adams Sr. and Mary Ann, Tom's parents, tragically lost both of their sons to "natural causes" during the war.