2nd Lieutenant Arthur Hugo SMYTH 
Killed in Action 13 March 1918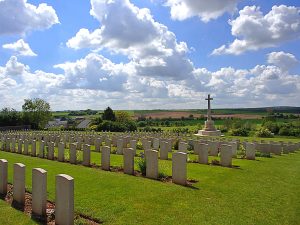 Arthur Hugo, born in Hammersmith in 1895, and usually addressed as "Hugo", was the son of  Arthur Percy Smyth and his wife, Gertrude Naomi Smyth.  At the 1901 Census the family lived at 25 Homefield Road, Chiswick.  Arthur Percy was aged 30, and listed as a Furnisher and Decorator.  Gertrude was 31.  Ten years later, they had moved to 30 Homefield Road.  At age 16, Hugo had started an apprenticeship in engineering.
Nothing else is known about Hugo's pre-War life.  At aged 19, he may have volunteered early on in the War, but it is more likely that he was conscripted in 1916.  In any event, he started in the Army Service Corps, as Acting Sergeant, No. M2/136.429 that suggests that from the outset he was in the Motor Transport branch.  We know that he was commissioned Second Lieutenant on 22 June 1917. 
Each Division of the army had a certain amount of motorised transport allocated to it, although not directly under its own command. The Divisional Supply Column Companies were responsible for the supply of goods, equipment and ammunition from the Divisional railhead to the Divisional Refilling Point and, if conditions allowed, to the dumps and stores of the forward units. A Company initially comprised 5 officers and 337 other ranks of the ASC, looking after 45 3-ton lorries, 16 30-cwt lorries, 7 motor cycles, 2 cars and 4 assorted trucks for the workshop and stores of the Supply Column itself.  In the winter of 1917-18 mechanical transport was re-organised on a Corps basis, and 2/Lt Hugo Smyth was part of 69th Siege Battery Siege Park, in Ammunition Column "N".  A Corps Siege Park was composed generally of a MT Company attached to the Corps Heavy Artillery.  While they remained under the administration of the ASC, they were answerable to the Heavy Artillery for the haulage of guns, supplying ammunition to batteries when in position, and the movement of batteries, but also answered to the MT Branch of the ASC for the upkeep of lorries and administration of personnel.  Members of the Corps who supported the heavy guns were often involved in activities which brought them in constant danger, largely due to enemy shelling. A good number became casualties and a number received decorations for bravery.
69th Company was attached in the later part of the War to 16th (Irish) Division.  By January 1918, this Division had returned to the Fifth Army in France and took over 7,000 yards of front line previously occupied by the French, in the middle of the front line near the villages of Ronssoy and Lempire.  The supply chain to this area will almost certainly well behind this line , in a corridor to the north-west, based around Arras, itself a place that was to be under fierce fire from the German Offensive which commenced on 21 April.  No doubt, in the few weeks before that, 69th Company would have been daily transporting heavy guns and ammunition towards the front, very vulnerable to enemy long-distance artillery attack.
2/Lt. Arthur Hugo Smyth was Killed in Action on 13 March 1918, most likely from shellfire in just such an enemy attack.  His body is buried at Maroeuil British Cemetery, north-west of Arras at Plot IV.H.6.  He was unmarried, and aged 23.   His parents placed on the headstone the words:
"Though thy voice to us is silent we feel thy living presence here".