Pte Hemming Thomas GEORGE
Killed in Action 23 April 1917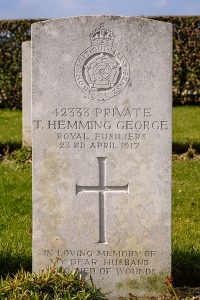 Thomas Hemming George was born on 7 September 1883 to Hemming George, at the time a Carman and his wife Ellen, and he was baptised on 7 October 1883 at Christ Church, Turnham Green by Revd. CE Blomfield, the Curate.  Ellen his mother (b.1862), nee Gould had been a laundry hand, as had been her mother, Elizabeth Gould, b.1833.  Hemming George, Thomas's father ran a home-based laundry business.  The couple had four children, but two had died early.  At the Census in 1891, at age 7, Thomas Hemming was to be staying at his grandmother's home at 11 Jessop's Row, Chiswick, now demolished – near Belmont Road.  Possibly he was there because of his mother's care for the ailing older siblings.
Thomas Hemming at aged 22 had himself joined his father in the laundry business,  and lived at 12 Jessops Row.  On  15 September 1906, he married Edith Florence James, the daughter of another laundry proprietor Edward James, of 6 Saville Road.  The ceremony, at St Alban's Church, Acton Green, was performed by Revd. G S Pardoe of All Saint's Church, South Acton.  By 1911, the couple were living at Church Path, Acton Green.  They were still laundry hands.  They had no children.
It is not clear when Thomas enlisted.  He did not volunteer early, and was probably conscripted in mid-1916.  He joined the Royal Fusiliers as a Private when he was over 33, Regimental No. 42333.  The War Gratuity record places him in that regiment's 10th Battalion.  The "Stockbrokers' Battalion" had first landed in France in July 1915, in 111th Brigade, 37th Division.  It seems unlikely that Thomas would have seen first line action until at least Autumn 1916.
In 1917, The British Arras offensive was designed to support a larger French campaign at Chemin des Dames and Champagne.  The Battalion, near Arras, fought in the First Battle of the Scarpe, 9-14 April, including the capture of Monchy-le-Preux, and then the Second Battle of the Scarpe, 23-24 April.  The attacks, very effective at first, ended in an attritional slog.
It was on the first day of the second Scarpe battle that Thomas lost his life.  The War Diary entry of 23 April reads:
Starting from CHILI TRENCH …"At 4.45 am the Batt. advanced in accordance with the artillery barrage programme until the German second line was taken and here considerable confusion arose owing to men of 63rd. Bde. getting too much over to the left.  At this point it was found difficult to make an immediate further advance due to enemy enfilade Machine Gun fire and snipers.  The battalion on our left was slightly in rear of us and we had to wait until they came up in line before the MGs and snipers were silenced.  The advance then continued to the road running through I .1.c.  At this point we were not in contact with the Battns. on our left and right.  A patrol was pushed out to find if CUBA TRENCH was occupied.  It returned to report that it was clear of the enemy.  The battalion then consisted of 3 Officers and 50 ORs occupied CUBA TRENCH at 9.30 am.  Men of 13/RF  and 13/KRRC arriving on our left about half an hour afterwards.    …..   a defensive flank  was then formed of Machine Guns  on our right.  Immediate consolidation of CUBA TRENCH was started  on a frontage from 1.7a.6.9.5 to 1.1c.5.4 ….. but it was not until 9.55 pm that contact with 63rd. Bde. on our right. At 1 pm. a patrol was sent out to reconnoitre the CROSS ROADS in I.2.c but were unable to approach owing to very active enemy snipers.  50 prisoners were taken during the day   …..All through the advance the enemy barrage was very intense" (see accompanying trench map).
Thomas was mortally wounded during this advance.  He will have been transported to the Field Ambulance at Haute-Avesnes, where he died and was buried at the British Cemetery there, Plot C 36.  His headstone reads: 
"In loving memory of my dear husband who died of wounds"
Edith Florence George will have received her husband's War and Victory medals.  She never married again and in 1939 was living with her 79 year old father Edward James at 6 Saville Road, Acton.  She died in 1957.