ALFRED LEWIS KING
Died of Wounds 11 February 1916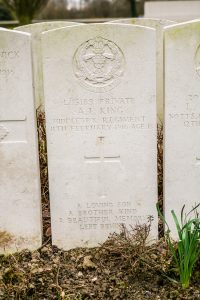 Of Alfred Lewis King's parents we know little.  His father is unknown.  We know from the only definite census return relating to his mother, Ellen, that she was born in India in about 1870.  Her eldest daughter, Rose Maud King, was born in Westminster in 1892, and another daughter, Ellen was born in 1894 in Westbourne Park, London.  Alfred himself was born in 1896.  By 1911, Ellen King had re-married, in about 1903, to William Bryan, a 43 year-old Labourer who worked at Lead Mills.  She had had borne three further children by him, the eldest being Walter Charles Bryan who was born in 1903.  They lived at 12 Chapel Close, Chiswick Back Common (long demolished).  Alfred's sisters worked locally at an electric light bulb factory as product testers – Alfred was an errand boy for the Globe Polish Company.
Alfred's name appears, not only on St Michael's church memorial, but also on the plaque dedicated to the Cadet Battalion of the Middlesex Regiment.  He well may have been a member of S Michael's Church Lads Brigade before the War.  In any event, he volunteered and enlisted in the 4th Battalion Duke of Cambridge's Own (Middlesex) Regiment  (The Die Hards).
The 4th Battalion land at Boulogne as part of the 8th Brigade, 3rd Division in August 1914 for service on the Western Front.   Alfred King's service number, L/15189, suggests that he enlisted at the start of the War, soon after 15th August.  He would have attested as a new recruit to a Regular Battalion, not simply for the "duration of the war" as a Territorial.  He would, of course, require basic training, so he would have seen active service in the BEF only from March 1915, a date confirmed on his medal card.
In May 1915 the Battalion was heavily involved in the Ypres Salient actions around Hooge.  There, the British had planned a major underground initiative involving the detonation of a huge mine.  4/ Middlesex were ordered to attack and capture the rims of the crater as soon as it had been formed, and to create a defensive position.  The attack was successful in the short term – the explosion created a hole some 6.6 yards deep and almost 44 yards wide.  The far side of the crater was then taken and secured by men from the 1/Gordon Highlanders and 4th Battalion, Middlesex Regiment. Ten of the latter were killed by debris from the mine as they waited in advanced positions.  The Germans tried to recover their lost position but were driven back by the British infantry and a heavy artillery bombardment.  However, while the mine enabled the British infantry to take Hooge, the Germans took back all and more of the ground they had lost by 30 July.  The 'Diehards' lost 400 killed or wounded.  Alfred survived.
By late 1915 the battalion had been transferred to 21st Division, 63rd Brigade and found itself in the Armentieres area.  There, during the Winter, the front line was stable with well established trench systems.  4/Middlesex were had billets in Armentieres, and front line positions in the North East, in front of Houplines on the Belgian Border.  there was constant shell fire, and sniping activities, with occasional raids on either side.  Alfred will presumably have been wounded during one of these episodes.  We don't know on what date he was injured.  He must have survived sufficiently long to have been transferred to a Casualty Clearing Station behind the lines, such as Bailleul, where he was buried, having died on 11 February 1916.