Sergeant THOMAS ARTHUR SQUIRE
Died of Wounds 30 November 1917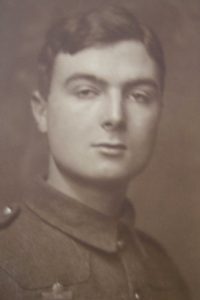 Thomas Arthur Squire was born on 13 March 1893 and he was baptised at St Paul's Church, Hammersmith on 16 April of that year. His father, also Thomas Arthur Squire, was a Gas Mantle Manufacturer, of Agate Road, Brackenbury Village, born in 1867. He had married Emma Wiseman Tomes in 1889. Thomas was the third child, the first and only son. At the Census of 1901, the family had moved to 35 Paddenswick Road, Hammersmith. Thomas had two elder sisters, Daphne (1890) and Eva (1891). There were four further daughters, Dora (1895), Brenda (1896) who died in early infancy, Hilda (1898) and Sybil (1901). After early education at Elgin House Private school, Goldhawk Road, he joined Latymer School on the 8th of September, 1903, being placed in class I a. He left on July 9th 1909, from class VI c having sat the Cambridge Local Exams at the 'Junior' level in July 1908 and 'Satisfied the Examiners'.  A photograph shows him in the garden at 35 Paddenswick Road with his eldest sister Daphne at around 1909, about the time of his entry to Latymer.
After leaving school, he joined his father in the production of Gas Mantles. He spent 6 years at this job, until he joined the City of London Yeomanry at the outset of the War (a territorial unit known as "Rough Riders").  A photograph shows him in uniform at home on Christmas Day 1914.
Thomas Squire's enlistment in the City of London Yeomanry is recorded in the October 1914 edition of the Latymer School Magazine. This regiment of four squadrons was assigned to the London Mounted Brigade, 2nd Mounted Division.
On 11 April 1915, the regiment embarked on Scotia and arrived off Cape Helles, Gallipoli on 28 April expecting to land. However, on 1 May it departed again, arriving at Alexandria on 6 May being posted to the Suez Canal Defences (near Ismaïlia) by the middle of May. Tom took part in mounted patrols on his horse Dommi to prevent mine laying on the Suez canal railway.  Its parent brigade was designated 4th (London) Mounted Brigade. The regiment eventually was dismounted in August 1915 for late service in the Gallipoli Campaign. It left a squadron headquarters and two troops (about 100 officers and men) in Egypt to look after the horses.
The regiment landed at Suvla Bay on the morning of 18 August and moved into reserve positions at Karakol Dagh. It moved to "C" Beach, Lala Baba on 20 August. On 21 August it advanced to Chocolate Hill under heavy fire and took part in the attack on Hill 112. Due to losses during the Battle of Scimitar Hill and wastage during August 1915, the 2nd Mounted Division had to be reorganised. The regiment formed part of a battalion sized unit, the 4th London Regiment. This regiment left Gallipoli, embarking for Mudros on 2 November and returning to Egypt in December 1915 where it was reformed and remounted.  A letter to his parents after he had returned to Egypt describes his Gallipoli experiences.  
The regiment (and its brigade) left the 2nd Mounted Division on 18 January 1916 and was sent to Abbassia in the Nile Delta where it once again served as part of the Suez Canal Defences. In March 1916, the brigade was redesignated as 8th Mounted Brigade. From November 1916 to June 1917, the regiment took part in the Salonika Campaign, serving as GHQ Troops, seeing little action.
The regiment arrived back in Egypt from Salonika with its Brigade on 8 June 1917. It moved forward and joined the newly formed Yeomanry Mounted Division on 21 July 1917 at el Fuqari. From 31 October it took part in the Third Battle of Gaza, including the Battle of Beersheba and the Capture of the Sheria Position. It took part in the Battle of Mughar Ridge on 13 and 14 November and the Battle of Nebi Samwil for 17 to 24 November. There, the yeomanry were confronted by a strong position of 3,000 infantry supported by artillery on the Zeitun ridge west of Bireh. During a back and forwards battle the yeomanry did at one stage capture the position, but were forced back again on 21 November. From 27 to 29 November, it withstood the Turkish counter-attacks during the Capture of Jerusalem.
Thomas had risen to the rank of Sergeant at the time of his death, of wounds on 30 November 1917, as reported in the December 1917 edition of Latymer's Magazine. It is not clear  on what date he would have received his fatal injuries. His medal card confirms that he was with the unit from the outset in May 1915, so would probably have served in all four of its locations, Egypt, un-mounted in Gallipoli, Salonika and Palestine, though he would have been spared the ordeal of Gallipoli had he been in the lucky 100 that stayed in Egypt to look after the horses. Thus his war service would have mirrored the experiences of Private Leonard Dunckley, who served in the 3rd County of London Yeomanry (The Sharpshooters). His grave lies at the Cairo Memorial Cemetery, which suggests his wounds allowed evacuation to a base hospital facility.  Information from his great nephew indicates that Thomas was wounded by a Turkish sniper near Ramallah, Palestine a week or so before he died of his wounds in Cairo.
Thomas's father will have received his son's medals, the 1915 Star, War and Victory medals. The headstone is inscribed: "In God's Keeping".