Pte John Lawrie CRAIG
Killed in Action 19 April 1917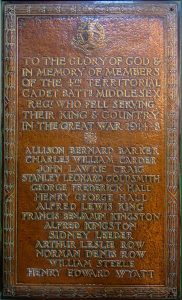 John Lawrie Craig was born in Newcastle upon Tyne in the last quarter of 1898.  In 1901 he could be found at 13 Morpeth Street there.  His parents were Alexander Lawrie Craig, aged 28 and Clara, aged 26.  He had a brother,  Alexander Thomas, born in 1896.  By 1911, it seems that John's mother had died, probably in early 1902, after the birth of his sister,  named Clara after her mother. The family had moved to 89 High Road, Chiswick where his father was now a Dealer in musical instruments.  He had married again, to Isabella, born in South Shields, 8 years his senior.  They had married in about 1903, Isabella, and the elder son helped with the business.  John (12) and Clara (9) were at school.
At the beginning of the war John would have been possibly just 16.  As his name appears on the Cadet Memorial at St Michael's, he would certainly one of the 4th Cadet Battalion.  In any event, he will have enlisted, at Stamford Brook when old enough, and became a Private, in 2/10 Middlesex Regiment, T.F.291068  (Duke of Cambridge's Own).  This battalion had been formed to support the Gallipoli campaign in 1915, but moved in December 1915 to Egypt, with the 54th Division, where John would have had his first posting during 1916.
Egypt and the Suez Canal had always been of enormous strategic importance.  The defence of the canal zone was paramount, but in the longer term it was to become a springboard to attack against the Central Powers, through Palestine.  The Sinai Peninsula was regarded as a key defensive zone.  In 1916 the British made efforts to extend the railhead on the coastal strip towards Gaza, which would become the front line in the push into Palestine, Jerusalem and beyond.  In 1916 Turkish forces made determined attacks around Rumani in July, to thwart the railway's progress.  It is not clear whether John was already at the forward areas at this time.
It was not until early 1917 that sufficient force had been gathered, and lines of communication established, for an assault on the large Turkish forces in Palestine. Two attempts on the difficult and fortified Turk positions at Gaza on the coast narrowly failed, in March and April, the second of which would have been the action in which John lost his life.  This alerted the Turkish command, which ordered a strengthening of the front all the way from Gaza to Beersheba.  It needed much increased forces to enable Allenby successfully to gain Jerusalem the following December.
John Lawrie Craig is buried at the Gaza War Cemetery.