2nd Lieut. RICHARD SUMNER GAMBLE
Missing, believed Killed 22 May 1915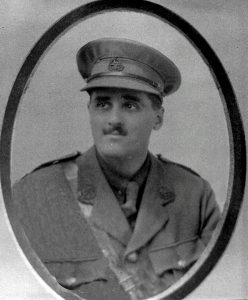 Richard Sumner Gamble was the eldest son of Sidney Gompertz Gamble, from Grantham and his wife Harriet Annie nee Sumner from Coleshill.
All three are commemorated on a family plaque at St Michael and All Angels.  Sidney had been Borough Surveyor in his home town of Grantham, where Richard was born on 8 October 1881.  By 1911, Sidney had moved to London, to be second in command of the London Fire Brigade.  In 1911, the family lived in Southwark, where at the census Richard was to be found, on leave from India where he was a Tea Planter.  It isn't certain when the Gambles moved to Bedford Park, probably 1917 or 1918, where they finally settled at 16 Queen Anne's Gardens and remained until after Sidney's death in 1932.  Harriet died in 1941.Richard therefore would never have resided in the Parish.
RICHARD was educated first at Coleshill School, and then at Luneburg in Germany until 1899.  He then became apprenticed as a mechanical engineer at Hunslet Engine Works in Leeds, afterwards continuing engineering studies at the Battersea Polytechnic.  He then was appointed Assistant Manager of the Kallina Tea Estate in India, and similarly employed subsequently in Konapara and Jellalpore.  His leave in England in 1911 was occasioned by illness, but he returned, this time to the Federal Malay States at a Rubber Estate in Perak.
It is said that Richard was an enthusiastic volunteer.  As a Territorial, he attained the rank of Sergeant in the Leeds Rifles, and subsequently in the Surma Valley Light Horse.  As a good horse and swordsman, he carried off many of the best prizes at their competitions.
On his return to England at the outbreak of the War Richard hoped to use his intimate knowledge of German, French, Hindustani etc. and "his great ability to control and manage" colonial natives, and "placed his services at the disposal of the India Office" in the expectation of his use with the Indian troops, then on their way from India.
On 16 January 1915 he was gazetted Second Lieutenant in the 7th Battalion, East Lancashire Regiment, yet to be deployed.  On 24 March he was ordered to Marseilles to be attached to the 6th Jat Light Infantry, which by 30 March joined part of the 7th Meerut  Division, deployed since the winter in French Flanders where the severe weather and intense fighting had caused serious attrition to the Indian troops.  He entered the Front on 12 May, and four days later was transferred to 1st. Battalion, Gurkha  Rifles, then in the trenches.
Richard's last letter home concluded with "I have just received orders to go and bomb some Germans out of a trench, so must say goodbye."  Subsequent reports suggest the actual attack took place on the night of 21/22 May in trenches running through Ferme du Bois, 3 Km north-east of Festubert.  Richard was leading and described by the observation officer to be well in front of his men, and deliberately cut a large gap through the wire and then, thinking his men were just behind him, jumped over into the German trench.  The German fire was so intensely hot that the men had to lie down, and never reached the trench; the casualties were all the European officers and 45% of the men killed or wounded.
2nd. Lieutenant Richard Sumner Gamble, 7th East Lancashire Regiment, attached 1st. Gurkha Rifles, was officially reported missing, believed killed 22 May 1915
 His name is inscribed on Le Touret Memorial, between Bethune and Armentieres, which commemorates 13,400 British soldiers with no known grave, who died between October 1914 and September 1915.