Private George William MAUNDER
 Died of wounds 5.9.18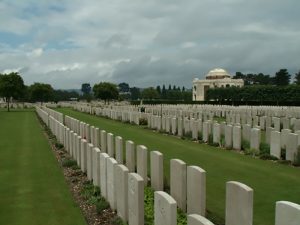 George was born in 1883 in Hammersmith.  His parents were Robert W Maunder, a House Painter, and Annie, his wife.  At the 1891 Census the family lived at 144 Duke Road, Chiswick, a building of two separate dwellings.  George was the first child, and there were three siblings: Ernest E, aged 6, Annie M, aged 4 and Dorothy M. Nothing is known about George's early life.  He in his turn became a Paperhanger and House Decorator. On 31 July 1904 he married Annie Elizabeth in Chiswick.  They settled together at 33 Reckitt Road, Chiswick where they were living at the 1911 Census.  Their only son, George Henry, was aged 5 having been born on 17 February 1906.   At the outset of the War, they had moved to 4 Chiswick Common Road.
George enlisted at Stamford Brook on 26 October 1915 at the age of 33 and became a Private, Duke of Cambridge's Own (Middlesex) Regiment, TF 204249.  At his recruitment medical, he was deemed "fit for home service", presumably because of his age, and possibly because, although fit, his height was only 5ft. 4in.
Initially, he was posted to the Middlesex Regiment's 63rd Provisional Battalion at home and eventually to 7th Reserve Battalion in November 1916.  It seems that he was an unsuitable soldier.  It was not until after two years, on 30 September 1917 that he joined 7/Battalion in the field.  In early November he developed an unexplained fever that resulted in treatment at 137 Field Ambulance, admission to 12 General Hospital in Rouen and back to England on 14 December.  He recovered sufficiently to be posted to active service in the 7th Battalion Middlesex Regiment, joining it on 11 June 1918.
On 31 August he sustained gun shot wounds on face and arms and died of his wounds on in 11 Static Hospital on 5 September 1918. He was buried at Saint Sever Cemetery extension, Rouen, Seine Maritime, Plot Q.V. A9.