Major John Bonwell Sale
Died from Illness, 11 November 1918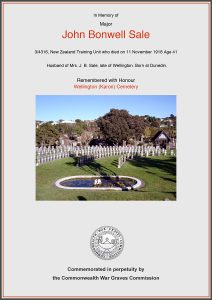 When John Bonwell Sale was born in Dunedin, Otago, South Island, New Zealand on 3 March 1877 his father, George Samuel Sale was 45, and his mother, Margaret Maria, nee Fortune was 25.  He had two younger siblings: Mary Dorothea, born 20 July 1880 in Dunedin, and Margaret Eleanor was born in Port Chalmers, Otago on 15 September 1884.  We know that John Bonwell Sale studied medicine at the University of New Zealand and qualified as a practitioner on 27 March 1901
 At the age of 34, John married Lavender Gladys Irene Cross on 4 March 1911 in Invercargill, Southland.  They had two children during the marriage:  Helen Margaret was born in Invercargill on 16 January 1912, and Mary Barbara on 15 August 1914.  
John Sale was aged 37 in 1914 with a thriving medical practice in Invercargill. At his age, with two children, he did not join the army at the outset of the conflict.  At some stage his name will have been added to the reservists, and thus registered in the Reserve List of November 1917.  In early 1918 he was called to join a Training Unit at Trentham, near Wellington, as its medical officer, with the rank of Major.  As far as we know, he never left New Zealand.  The supposition is that he was called in order to spare a younger medical officer for front line duty overseas with the NZ Expeditionary Force.
 John Boswell Sale  died on 11 November 1918, Armistice Day in Trentham Camp,  at the age of 41.  The likely cause of his death would have arisen from the Influenza that was pandemic at that time.  As a medical officer he would have been much exposed to such an infection.
The question arises about why a 41 year old doctor who has never set foot outside New Zealand should find his name included on one of the War Memorials  associated with the Parish of Bedford Park.  The answer comes from his father, Professor George Samuel Sale (1831 – 1922).
According to the Dictionary of New Zealand Biography, George Sale was born in Rugby, Warwickshire, the third son of John Shaw Sale, the Writing Master at Rugby School under Dr. Arnold, into which George entered as a pupil in 1839.  In 1850 he proceeded to Trinity College Cambridge, where he graduated BA with first class honours in Classics, and second class in Mathematics.   It is said that while in the School sixth form, he was much involved with drawing up the first "Rules of Rugby Football as played at Rugby School".
After four years as tutor and sub-lecturer at Trinity, in 1860 he decided to emigrate to New Zealand.  He first was employed as manager at Lake Coleridge Sheep Station in Canterbury, but was soon invited to become the first editor of the Christchurch Press, but after only a short time he joined the Otago gold rush.  In 1865 gold was discovered on the West Coast, and he was sent as Commissioner to the West Canterbury goldfields.  He became a representative of Westland County Council.  Briefly returning to England on the last illness of his father, he returned to Otago and in 1871 accepted the Classics and English Literature Professorship at the newly opened Otago University, a post he retained until his retirement in 1908.  He had married Margaret Maria in 1874.  He returned to England after his retirement, settling in Bedford Park until his death in 1922.
George Samuel Sale had been a keen sportsman, playing two seasons of cricket in Christchurch.  He played a large part in the development of Cricket and Rugby at his University at Otago.  Rugby first made an appearance at Wellington in 1871 and its development was much facilitated by former masters and students from Rugby, such as George Sale, so it attained recognition as the country's national sport by 1900.
George and Margaret's names appear on the Acton Electoral Roll in 1918, living at Denham Cottage, Vanburgh Road.  Doubtless it was they that caused their son's name to be inscribed on the Bedford Park Memorial.