Private Norman Denys ROW
Killed in Action 27 September 1918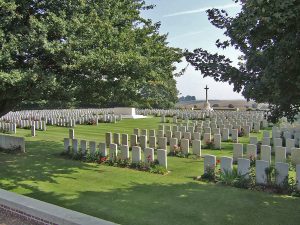 Norman Denys, the second of the two sons of Arthur Bryant Row and his wife Mary Florence Edith, was born 1 February 1900 and baptised at Richmond Parish Church on 18 March the same year.  When aged 1, in the Census of 1901, he and his family were resident at Burlington House, 1 Kings Road, Richmond, a small school  of which his father was headmaster, with sixteen boarding pupils. He had two much older siblings – Violet Mary, born 1893, and Arthur Leslie, born in 1891.  At the Census of 1911, Norman Denys's mother was a very recent widow – his father had died in January 1911 at the age of only 50.  After his death, the remaining family remained only briefly at Burlington House as the school closed down.  Mary Florence and Norman Denys, now a schoolboy aged 11 was at school in Richmond, living at home.  Violet Mary at 17 had left home for employment in Barnet.  Arthur had enlisted in the peace-time army and was in barracks in Tilbury.
When War was declared, Norman was still only aged 14, and living with his mother at 3b, Richmond Parade mansions, East Twickenham.  At that stage, he will certainly joined a Cadet Corps, presumably one of the Companies training with the 4th Cadet Battalion, Middlesex Regiment, since he (and also his elder brother Arthur) are commemorated on the Cadet Battalion plaque in St Michael and Angels Church.  
Norman would have attained the age of 18 in February 1918 and became eligible for conscription.
He was enlisted in the 1st. Battalion, The Queen's Own (Royal West Kent) Regiment as Private 31785.  As a former cadet, he may well have had accelerated his training for active service, but even in 1918, he would have been aged 18 and a half before any overseas service.  He would therefore probably not have joined his battalion, in 13th Brigade, 5th Division,  until the beginning of July, when the allied command was preparing to re-capture the ground lost in the Germans' great Spring Offensive.
By late September 1918, the "100 Days" Offensive had advanced and regained most of the position occupied after the November 1917 Cambrai campaign.  The War Diary describes the Battalion's position just west of the large village of Gouzeaucourt, as part of 13th Brigade, accompanied by 2/Kings Own Scottish Borderers, and two Battalions of the Royal Warwickshires (see maps below).
On 27 September, a huge offensive along much of the Front commenced.  In front of Gouzeaucourt there was fierce fighting, lasting most of the day, in which the Companies of 1/RWK encountered heavy machine gun fire.  One Company succeeded briefly in achieving their objective, an enemy trench line but was unable to hold it until extra platoons from the 2/Borderers reinforced the position.  By the end of the day, the Battalion lost 3 Officers and 62 killed or died of wounds and 37 missing.  Norman Denys one of those killed.  Another Division succeeded in securing the village in the next two days, by which time the enemy had decided to retire to the Hindenburg Line.
Private Norman Denys Row was buried behind the lines near where he fell.  After the war, concentration of isolated graves or small graveyards saw his body moved to Gouzeaucourt New British Cemetery, where he lies at Plot VIII.A.10.  He died at the age of 18, after only two months at the front, and four months after the death of his elder brother, 2/Lt Arthur Leslie Row.  His widowed mother, Mary Florence witnessed the wedding at St John's Church Putney of her daughter, Violet Mary to Ronald Victor Vaughan Callin, a Corporal in a South African Signalling Battalion in July 1919.  Shortly afterwards, having settled all her affairs, she emigrated to Durban, South Africa with her daughter.