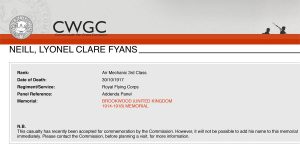 Lyonel Clare Fyans NEILL was born in 1894 in Dunedin, South Island, New Zealand.  He was the son of Foster Fyans Neill , born 26 November 1868 who was a sheep farmer there. Foster married Beatrice Victoria Jones in 1893.  Lyonel's grandfather, Percival Clay Neill had originally hailed from Antrim, Northern Ireland but had emigrated to Otago where he had met and married Gertrude Fyans, the daughter of a former British Army captain, Foster Fyans.  Percival was a substantial businessman in Dunedin, who died in 1936, only two days before his second son, Foster.
Foster Neill's farm was in Waikouaiti, where Lyonel had his schooling at the local public school, at which his name appears on the war memorial.  In childhood, the boy had suffered ear infections, necessitating the mastoidectomy operation that was so significant to him in later life.
In New Zealand Lyonel would have met Marjorie Ellen Harper, born in 1891 at Dunedin, (whose father, Frederick Harper, originally from Sharples in Lancashire had emigrated to New Zealand in 1890, and had married Elizabeth Eleanor, a local girl from Dunedin).  Marjorie had travelled with her parents to England in early 1911 – they are recorded in the 1911 Census as visitors at the home of Mr and Mrs Muncey, at 47 Thornton Avenue, Chiswick.  Elizabeth and Marjorie seems to have been frequent travellers, as they were found again as inward passengers from Wellington to London in June 1913.
At the start of the war, it seems from the scanty military records available, that Lyonel will have volunteered to serve in the New Zealand Expeditionary Force.  It may well be that he failed a medical examination in New Zealand. In any event, he will have travelled to Britain early in the war, because we learn that he married Marjorie Ellen Harper in Chiswick on 2 March 1915.  They settled together at 14 Flanders Mansions, Bedford Park, where their son, Frederick Fyans Neill was born on 7 March 1916.  After the Military Service Act that operated from March 1916, Lyonel appears to have enlisted again for service, and a medal roll derived from those who served with the British Red Cross suggests that he was engaged with ambulance work in Britain for a period of three months in 1916, after which he was deemed to have become a Private in the General Reserve.
Finally, on 14 March 1917,  Lyonel was called to serve in the Royal Flying Corps at the Cadet Battalion at Farnborough with the rank of Air Mechanic 3rd Class.  He had been rejected for aviator training by an Air Board because of his ear problems in childhood.  On 24 August, Lyonel underwent a medical, having reported sick.  The medical notes state that he suffered from frequent pains in the head together with vertigo, and presented with a discharging sinus at the site of his old mastoid operation.  He was deemed to have chronic otitis media, and the report recommended he should be considered permanently unfit for military service.  It took another month for his case to be considered by a Medical Board. The Board considered that his condition was permanent, had arisen from infancy, and not aggravated by military service.  It was not considered that his condition warranted further medical supervision.  He was discharged from the Service on 29 October 1917.
Lyonel Clare Fyan Neill died the following day, on 30 October 1917.  He is commemorated on the Brookwood (United Kingdom 1914-1918) Memorial, on the "Addenda Panel" as his name was only recently accepted for commemoration by the War Graves Commission.
After the war, his widow, Marjorie lived for a time in Sawbridgeworth, Hertfordshire, but returned to New Zealand within a short period.
Her son Frederick Neill served and survived World War Two in the Australian Army after having volunteered for service in Brisbane in 1940.
Download a zip file of these images