Lieut. Richard William HAYBITTLE
Died of Wounds 8 January 1918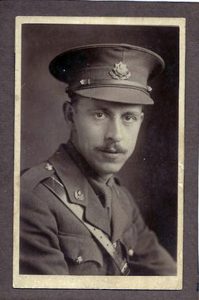 Richard William "Dick" Haybittle was born on 15 September 1887 in Southwark.  He was the first child of Richard Haybittle, an Ironmonger, and his wife Alice nee Bethell.  Their only other child was a daughter, also Alice, born in Southwark in 1889.  It is not certain when the family moved to "Maplehurst", 23 Dorset Road, Ealing.  However, we know that they worshipped at St Mary's Church, South Ealing and the Vicar, Rev. Oliver stated that he had known "Dick" for  13 years in his application for a commission in early 1915.  We also know that he was a member of the church choir, and had been its secretary and treasurer from 1910.
Dick Haybittle attended Latymer Upper School in Hammersmith, serving in its Cadet Corps.   He then trained as a Land Surveyor and Valuer, for three years apprenticed to  Mr John Kent, of Middlesex .   He became a Professional Associate of the Surveyors Institution and a Fellow of the Auctioneers and Estate Agents Institute.  Around 1908/9 he practised for some time in Regent Street, Central London and he may have set himself up in Chiswick as Surveyor and Valuer, firstly in the Chiswick High Road, and then at 56 Turnham Green Terrace.
At some time he had also served as an Assistant Valuer in the Inland Revenue Valuation Department in Wolverhampton.  He will have lived for a short time in the close-by village of Codsall, where he joined the local Rifle Club.  While in South Staffordshire he would have met future wife, Gladys May Baxter, born 1895, whose family lived in Burton on Trent.  At the 1911 Census, however, at age 23, he is recorded as a Surveyor, living at his parents' house in Ealing, together his sister Alice, who then was an unmarried schoolteacher aged 22. 
When war was declared, Richard William Haybittle volunteered.  He attested on 22  September 1914 as a Private in the 16th (3rd. Birmingham) Battalion Royal Warwickshire Regiment, No. 363, where he rose quickly to Acting Corporal.  By  7 March 1915 he had been granted a commission as Second Lieutenant, and was posted to 14th Battalion, Cheshire Regiment.
Soon after being commissioned, he married Gladys at St John's Church, Horninglow, near Stafford in September 1915.  Their first and only child, Geoffrey William, was born on 8 June 1916.
We know nothing about Richard's service with the 14th. Cheshires. It became a Training Battalion based  first at Rhyl and then Prees Heath near Whitworth. The Battalion does not appear to have ever seen front-line service.   At some time he will have been transferred to The Machine Gun Corps.  His Service Record indicates that he joined the 185th MG Company, which embarked on SS Orsova at Devonport  on 11 October 1916, arriving in Basra, Mesopotamia only on 17 November aboard SS  Scindia.  He was promoted Temporary Lieutenant en route.  He eventually found himself "in the field"  around Amara at the beginning of April 1917, and was on active service in the front lines until his death.  His unit's arrival coincided with the successful campaign by Lt.General Maude to conquer and occupy Baghdad, so would have missed effectively the  last major offensive in Mesopotamia.  Much of the army was needed for the other major efforts in Egypt, Gaza and Palestine, so it was, for Mesopotamia, a matter of defence of the military gains and of the army of occupation.
Lieutenant Richard Haybittle was severely wounded probably as a result of opposing sniper fire, on 5 December 1917.  He was initially treated at 21 Casualty Field Ambulance with gun shot wounds of his right shoulder and thigh.  Despite an optimistic telegram to his wife dated 23 December having been transferred to 32 Base General Hospital in Amara, he unfortunately developed deep-seated wound infections, finally dying of septicaemia on 8 January 1918, after four surgical interventions.  We have a detailed clinical report (here) that are not for the fainthearted, but graphically describe his condition and the valiant attempts to treat him by the military surgeons in Amara.  One of the junior surgeons (Capt McNeill Love) would become familiar to generations of medical students for his co-authorship of a classic textbook of surgery that ran to 27 editions!
Richard is commemorated at St Michael and All Angels at the request of his wife and parents and his name appears on the war memorial at Codsall, Staffordshire.  He is also remembered on a headstone erected for his parents in South Ealing Cemetery, his father dying in 1932, and mother in 1939.  They had earlier caused a plaque in his memory to be placed in St Mary's, Ealing containing the epitaph:
"He fought a good fight; He kept the faith"
After the war, his widow Gladys May Haybittle returned to her home at 18 Calais Road, Burton on Trent where she will have received her husband's British War and Victory medals.  She never re-married.  Both her and her son Geoffrey were to be found at 36 Chornwood Avenue, Loughborough in the 1939 Population Register.