2/Lieutenant William Henry Hugh BOND
Killed in Action 22 June 1917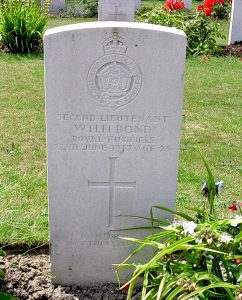 Born at Acton on 10th August 1891 and baptized on 16th May 1897 at St. Peter's Church Hammersmith, William Hugh Bond was the second son of  Henry Bond, an accountant and his wife Mary Bond, with two sisters, Gladys (1884), Amy (1885)  and brothers, Charles (1887) and Norman (1900). From at least 1901, the family had lived at 14 Queen Anne's Gardens, Bedford Park.  He was educated at Latymer Upper School, which he entered on an application dated 23rd April 1900,  then later at Acton County School from 1906-1908. On leaving school he became a stockbroker's clerk.  He volunteered at White City on 25th August 1914 intending to join King Edward's Horse (The King's Oversea Dominions regiment) but was immediately transferred to the infantry, the 22nd Royal Fusiliers (Kensington Battalion), No.227. He was promoted Lance Corporal on 25th August 1914 (unpaid); Lance Corporal (paid) on 1st October 1914; Corporal on 18th December 1915; Lance Sergeant on 12th June 1915 and Sergeant on 20  July 1915 and as such saw front line service from 16 November 1915 in that Battalion, 99th Brigade, 2nd Division, earning the 1915 Star.  The battalion was in front line trenches at "Talus des Zouaves", near Vimy on 23 May 1916:
"Orders for an attack at 8.25 pm in conjunction with battalions on right and left were issued.  At 8.15 as the 1 R. Berks.were unable to prepare to advance owing to the heavy barrage the C.O. cancelled the advance.  The message did not reach B Company which advanced and took the German trench, remaining in it for an hour and a half until recalled. Capt. Banbury, Lt. CJ Fowler and 2/Lt. E Walker were wounded, OR's: 7 killed, 78 wounded." 
It would been at this action that  Sgt. Bond was wounded, suffering gunshot wounds to his left leg and was sent via 5 Field Ambulance to 6 Casualty Clearing Station.  On 29 May he was admitted to 16 General Hospital RAMC at Le Treport before being sent home on 11 June 1916.  On his recovery, he sought a commission in an application dated 4 July 1916, with character references from the headmaster of Acton County School, Mr GH Clarke MA, and  2/Lt Henry Wyatt, himself a serving officer also killed in 1917.
After officer training at No.8 Officer Training Battalion, Lichfield, he took up his commission on 27 March 1917 in the 5 Royal Fusiliers and in May 1917 transferred to the 26 Royal Fusiliers as Second Lieutenant in 'D' Coy. The 41th  Division had been in action at the Battle of Messines during the Flanders offensive on 7 June 1917 and he was killed in action in the line at Elzenwalle during hostile gunfire in the morning whilst in the line near the Hollebeke Road on 22nd June 1917, in the aftermath of the British Expeditionary Force attack on Messines Ridge.
William Henry Hugh Bond was aged 25. His family received his 1915 Star, British War Medal and the Victory Medal. He was buried at Bus House Cemetery, Voormezeele, south of Ypres. The headstone is inscribed: "he died that others might live".  He is additionally commemorated on the memorial at St. Alban's Church.