Second Lieutenant Kenneth Reginald Flint Kemp
Died on active service 18th October 1918, aged 23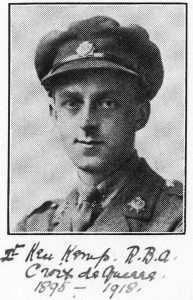 Kenneth Reginald Flint Kemp was born 17th April 1895, Bedford Park, the only child of Thomas Reginald and Bertha Kemp. Kenneth and his parents lived at 18 Woodstock Road and he was baptized at St Michaels and All Angels, Chiswick, on the 12th May 1895. Thomas Kemp was the son of a barrister and had attended Westminster School, later qualifying in law.  He was a JP in Chiswick and at his death in 1943 he had been for 42 years Coroner for West Middlesex.
Like his father, Kenneth also attended Westminster School, but was a talented painter. An example of his work is shown below.
In fact, Kenneth left school early, becoming a painter and a member of the Royal Society of British Artists.
On 4th October 1916, Kenneth left to work in Flanders with Dr Munro's Field Ambulance Corps.
Dr Hector Munro had set up a 'Flying Ambulance Corps' in order to help the Belgians who had been caught unawares by the German attack of August 1914 and had advertised for "adventurous young women to equip an ambulance unit for service in Belgium".  One of the accepted applicants was a Lady Dorothie Feilding, a British heiress, who was the first woman to be awarded the Military Medal for bravery in the field. The Munro field ambulance was provided in the absence of other services between February 1915 and March 1916.  The unit was based at Furnes (Veurne) and ranged between Dixmude and Nieuport on the coast. They were frequently out at night collecting wounded men to bring back to field hospitals or to transport to general hospitals behind the lines for treatment.
In Lady Dorothie's letters, she mentioned Kenneth Kemp several times.  On the 12th November 1916, Lady Dorothie wrote,
"A new man arrived for us yesterday, one Kemp, to replace Newall who had to return. He seems nice, but we are sorry to lose Newall who was a very dependable chap and a hard worker."
On 21st November, she wrote to her father, "I have just received a most compromising wire, which will show the sort of reputation I now have. 'Lady D F etc. – Beseech you return my son immediately – Kemp.'
"I think it is quite priceless and so does everyone else & I am being called a babysnatcher!! The reason of it all is a youth called Kemp who came to replace Newall & is somewhat a rabbit. He came in for a good few obus (shells) at once and Jelly (Dr Jellett) took him up to N (Nieuport) teach him how to reverse a car under heavy fire, as he explained 'just to give the lad confidence'. This put the lid on it and the lad wrote home to Papa his nerves & health wouldn't stand it hence frenzied wires from his parent birds – about 3 a day! We explained he was under a military contract for 6 months & must stick it. He is already improved & I think a little hard work & being shot at as often as possible will soon buck him up."
Dorothie later wrote to her mother, "Do you remember our last new member, one Kemp of 'Beseech you return my son' fame? He & Gurney were in one of the cars yesterday & an 11-inch obus (shell) neatly removed all trace of what a second before was a more or less complete house. As it took place alongside their car, it ought to teach him to be neurasthenic. He's getting on quite well tho' except he still drives abominably."
The winter of 1916/17 was severe with extremely low temperatures and much as the troops suffered in exposed trenches, the ambulance crews had to deal with frozen roads and shell holes that were treacherous to negotiate in the dark nights. Casualties had to be carried some distance to the ambulances which were often shelled in range of enemy guns.  Kenneth later put his ill health down to strains involved in driving ambulances and carrying wounded on stretchers. During this time he was awarded the Croix de Guerre, possibly by the Belgians but more likely by the French whose naval brigade of Marins were supported by the ambulances based at Furnes.
Despite enlisting on the 2nd of March 1916, Kenneth Kemp was not called up for service until the 4th of June 1917, when he was made a Private in the Army Service Corps. In his medical examination, it was declared he was "fit for transport but not for infantry", down to his diagnosis of having scoliosis, as a result of his 10 months as a field ambulance driver.
Kenneth applied for a Commission and on 12th August 1917, was discharged as a Private and appointed a 2nd Lieutenant the next day.  He was attached to the Home Mechanical Transport Depot at Holborn.  However, due to his various disabilities, he was taken ill, placed on the Sick List on 7th October 1918 and died at home in Bedford Park from double pneumonia on the 18th October, a victim of the great influenza pandemic of 1918-20.
Kenneth Kemp's grave can be found in Dawlish cemetery and his name on the Devon Roll of Honour.  His parents had arranged for his burial there – before the War it had been a favourite place for the Kemp family.  They retired to a house they had bought in the town, 'Up-Along' in The Drive.  The headstone is inscribed: "By his wish he sleeps among the hills and valleys he so loved."  At St Michael and All Angels his name appears on both the Bedford Park and the Parish memorials, and also on a brass plaque in the South Aisle.
Freddie Maud