Pte Norman Edward Bland WOODMAN
Missing presumed Killed  25 April 1918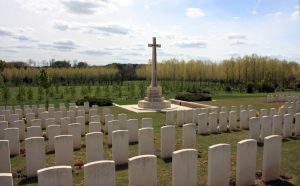 Norman Edward Woodman was baptised by Rev. Edward G Evans on 18 June 1899 at St Alban' Church, Acton Green.  His parents were George Frederic Woodman and Katharine Louisa, both school teachers, living at the time of the baptism at 47 Belmont Grove, Chiswick. At the 1901 Census,  George and Catherine were still at 50 Belmont Grove, with a 3 year old daughter, Doris Eva, Norman aged 1, and a second son, Stanley Victor, aged 1 month.  Eric Malcolm was born in 1902.  Sadly, Norman's mother Katherine died in early 1905, probably as a complication of birth of another daughter, named Katherine after her.  By 1911 the family were living at 10 Speldhurst Road, Chiswick.  It is a reasonable assumption that George Woodman had taught at Belmont School, and subsequently at Southfields School.   In the house there was also an unmarried housekeeper, Lilian Gamble, aged 26.
In 1915 George married his former housekeeper, Lilian Gamble.  It was also in 1915 that Norman's father first became a Sidesman at St Michael and All Angels Church.  Norman himself was listed as a Server from January 1916 until called for war service.   Subsequently, George Woodman became the Secretary of the Parochial Council, and the two younger sons, Stanley and Eric also became servers.
It was in about April 1917 that Norman was called up.  He joined  7/Queen's Own (Royal West Kent) Regiment as Private  G/28841.  At that time he had become one of the staff of St Michael's Mission.  An appreciation in the Parish magazine stated:
"The Mission School and the Parish generally have lost for a time one of their most reliable workers in Mr. Norman Woodman.  He is the fourth of our staff to join the ranks, and we are proud of the record.  Perhaps we had a lurking hope that he would be sent home 'till wanted, but it speaks well for the discernment of the authorities that he was not only "wanted" at once, but has already been sent to guard the "Gate of England".  
As a token of their regard and good wishes, his fellow-workers presented him with a wristlet watch, hoping that it would prove as reliable as he had done.  On the few occasions when Mr. Woodman was absent from his class, it was because he was urgently "wanted" for other parochial work."
The 7th (Service) Battalion was initially in the 55th Brigade of the 18th Division, first landing in France in July 1915, and heavily involved throughout the period of the Somme campaign, and during 1917 served during the Battles of Langemarck and at Passchedaele.  It is likely that Norman would have formed a part of reinforcements after those campaigns in early 1918.
In February the battalion transferred to the 53rd Brigade of the 18th Division which engaged in various actions on the Western Front including the Battle of St Quentin, The Battle of the Avre, The actions of Villers-Brettoneux, and the Battle of Amiens.
 At the end of March 1918, Hangard was at the junction of the French and Commonwealth forces defending Amiens. From 4 to 25 April, the village and Hangard Wood were the scene of incessant fighting, in which the line was held and the 18th Division was particularly heavily engaged.  Norman Edward Bland Woodman was Killed in Action on 25 April 1918.  His body lies at Hangard Communal Cemetery Extension.  There, 294 of the burials are unidentified but there are special memorials to eight casualties known to be buried among them. Other special memorials commemorate nine casualties buried in Fontaine-les-Cappy Churchyard Extension and Gentelles French Military Cemetery, whose graves could not be found on concentration.  Norman's name is inscribed on Special Memorial 8, with the words "Their Glory shall not be blotted out".
 In 1924, George and Lilian Woodman with Eric and Stanley Woodman, still lived at 10 Speldhurst Road.  George will have received his son's War and Victory medals.  He died in Acton in August 1945 at the age of 75.