2/Lieutenant Arthur William Lennox NIXON
KILLED in ACTION 31 May 1917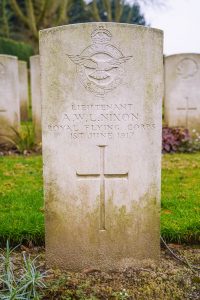 In the Irish Census of 1901, Henry Scott NIXON born 1838 and his wife Frances E L NIXON 1855-1935 lived at 4 Sandford Avenue, Donnybrook, Co. Dublin, Ireland. He was a Customs Official.
George was the eldest son, born 1885, Lilah Eveline Nixon had been born about 1887, Henry born 1888. Arthur William Lennox was born in 1890. Arthur's younger sister Kathleen F was born in 1893. We know that Henry died on October 1907.
By 1911, Frances, with Lilah, Arthur and Kathleen were still in Dublin, living at Windsor Road, Rathmines. Arthur at aged 19 was in clerical work, a Church of Ireland Diocesan Officer.
Nothing else is known about Arthur's life before the start on the War.
From his Medal card, he appears to have joined as a Cadet with the Inns of Court OTC. At that time he seems to have taken employment in London as a Bank Clerk. He was commissioned as a probationary Second Lieutenant for duty with the Royal Flying Corps from 5 August 1916.
Arthur was married to Dulcie Gertrude Doubleday at St Michael and All Angels Church on 28 April 1917 by Father Jacob Cartmel-Robinson.  Dulcie had been born in Dublin in 1897.  Her father, Thomas Frederick Doubleday, was originally a grocery and provisions merchant, but became a contractor to the Army. He had been born in Norfolk. He had died before the marriage of his daughter, but her mother Catherine Emily was a witness at the ceremony together with Dulcie's elder brother, George Martin. They lived at the time at 2 Fairlawn Court Mansions. Arthur's marriage address was at Brooklands aerodrome, where he was undoubtedly training for the observer role which led him to active service on 15 May 1917 with 16 Squadron RAF in northern France.
The condolence letter from Capt. WH Davies, Chaplain to the 4th Battalion, Canadian Royal Rifles describes the circumstances of Arthur's death in air action above Vimy:
"You will forgive the liberty I am taking in writing these few lines from the field, but I feel you would like a few details concerning the death and burial of your gallant husband Lieut. A.W.L.Nixon, who with his pilot Lieut. McKissock nobly lost his life on 31st May.
"The fatal engagement took place quite close to our lines. Your husband's machine was attacked by four hostile planes. Although the odds against him were so great, Lieut. Nixon and his companion made a gallant defence, but was unfortunately brought down. The squadron commander assured me that both occupants of the machine must have been dead before the plane reached the ground. I was on the scene a few moments later, both were then dead.
"As the machine came down at a spot exposed to the enemy snipers it was out of the question to get the bodies out. However we went out at night and buried them. Your brave husband and his companion now rest in a soldier's grave quite close to the spot where they fell.
"It was my good privilege to read our beautiful burial service , so full of comfort and hope…..
"I may say that your husband's grave is marked, registered and will be cared for…."
Lieut. Arthur William Lennox Nixon was re-buried at La Chaudiere Military Cemetery, Vimy, beside the grave of his pilot, Lieut. W McKissock on 25 July 1919.
Dulcie Nixon re-married in Amersham in September 1920 to Dr Cuthbert Shaw-Crisp, who became an Occupational Physician in Lincolnshire after WW1 service in the RAMC. She died in September 1978 aged 81